CLU Soccer Programs Host AYSO Clinic
Over 190 local youth players attend camp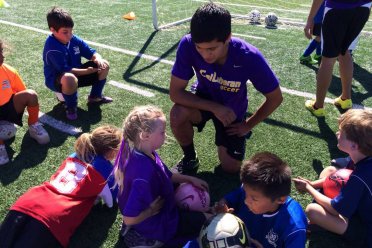 THOUSAND OAKS, Calif. – Nearly 200 youth AYSO soccer players participated in AYSO Day hosted by the Cal Lutheran men's and women's this past Sunday.
Less than a day after the men scored a last second goal to earn a 1-1 draw with Pomona-Pitzer and the women won 1-0 against Chapman, players and coaches from both programs returned to Rolland Stadium to interact and instruct youth soccer players from Thousand Oaks.
"Cal Lutheran has a proud tradition of connecting with the youth soccer community in Thousand Oaks," CLU men's head coach and athletic director Dan Kuntz said. "We had a great turnout this year and are looking forward to doing it again in the future."
For three hours, boys and girls ages 4-12 from AYSO Region 9 joined over 60 Cal Lutheran student-athletes in a variety of drills to help develop dribbling, passing, and shooting skills.
"It's always great to see CLU student-athletes working with the upcoming athletes in the community," remarked women's head coach Frank Marino. "Some of the players that play here started in AYSO when they were young so it's nice to see them give back."
In addition to the physical skills the young players gained at the camp, Marino felt the experience went beyond just learning the game of soccer, "I think it's great to see these younger players out here and working alongside positive role models from both CLU soccer programs."
"Hopefully one day these young kids will become student-athletes too and give back to the kids in their community."
CLU Twitter: twitter.com/clusports
Facebook: www.facebook.com/clusports