Regals Make Quick Work of Beavers
CLU sweeps CIT 3-0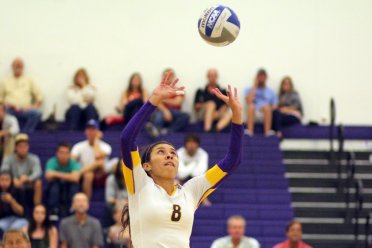 PASADENA, Calif. – Caitlin Fransen, Hannah Orlandi and Dianna Rohrer had seven kills apiece as Cal Lutheran made quick work of the Caltech Saturday, defeating the Beavers 3-0 (25-9, 25-9, 25-13 ). The Regals had a season-high attacking percentage of .457 and blasted 42 kills to just five errors as a team . With the win, Cal Lutheran improved to 17-1 and is now just one game away from tying the best start in school history since 2005.
The Regals came out firing on all cylinders in the first set, connecting for 18 kills on 25 swings and just two errors. Kylie McLogan had five kills to push CLU to a 17-7 lead and then Rohrer came off the bench and got three straight kills to end the first set at 25-9.
Fransen led CLU in the second set with four kills while Moncia Lundgren, Orlandi and Rohrer all had at least two kills. The Regals held Caltech to just five kills as the Regals again won the set by a score of 25-9.
Nicky Lyon got Cal Lutheran ahead to begin the third set with two kill. Caltech battled back to tie it 6-6 before Lundgren connected on a spike and gave CLU the lead for good. The Regals stretched their lead to 22-10 after Sarah Pappas converted her first two kills of her collegiate career and then CLU closed out the match with a Lindsey Kuramoto service ace and Lyon kill.
Jena Chavez piloted the CLU offense with 24 assists while Jackie Russell had 13.
On defense, Chavez, Lyon and Nicki Tetherow all had five digs.
Caltech was led by Catherine Jamshidi and Rebekah Kitto, who both had five kills.
Cal Lutheran (17-1, 7-0 SCIAC) will be back in action next Tuesday, Oct. 8 when the Regals travel to La Verne. CLU and the Leopards will get underway at 7:30pm.
Box Score: CLU 3 CIT 0
Follow Kylie: @k_mclogan and Pua: @puamookini
CLU Facebook: https://www.facebook.com/clusports