Kingsmen Go 4-0 Over Weekend
CLU finishes Gary Troyer Memorial Tournament undefeated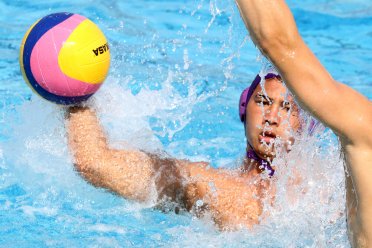 WHITTIER, Calif. – For the second time in as many days the Cal Lutheran men's water polo team completed a 2-0 sweep on the day to go undefeated at the 2013 Gary Troyer Memorial Tournament. The Kingsmen combined for 39 goals today as they opened with a 20-4 thrashing of Penn State-Behrend before rounding out the weekend with a lopsided 19-4 victory over Washington & Jefferson.
The momentum that CLU generated on day one clearly carried over to the final day of competition as the veteran and rookies alike contributed. Everyone who was dressed saw playing time. Overall today 18 different Kingsmen scored at least one goal, 12 chipped in with at least one assist and 16 grabbed at least one steal.
Senior Spencer McGrath liked what he saw today in the pool saying, "This weekend was a great coming together for us as a team," going on, "It showed us that if we all play on the same page and no one tries to do any Rambo tactics on their own we are an extremely tough team to beat."
In the morning game Cal Lutheran got a hat-trick form Tyler Graper, marking the first goals of his collegiate career. Also notching a goal at CLU for the first time against PSB was Bryce Woodell. Freshman Zach Card provided two goals and a pair of assists in the third game of the tournament as one of seven players to score twice in the contest. Senior Conrad Sheffer handed out a team-leading three assists against Penn State-Behrend and drew a pair of ejections to share the team-high with Jase Emery.
While Jesse Owen started in front of the cage, he played just one quarter, tallying two steals, before giving way to Zach Loza who recorded four saves over the final three frames. Also coming away with a pair of steals against the Lions were T. Graper, Sheffer, Camron Hauer, Adam Lee and Ben Russell.
Rounding out the weekend the assault continued with Shea Craig pacing the offense with a four-goal game, equaling the entire Washington & Jefferson team. Franklin, Hauer and Hunter Hamaker each netted a pair and T. Graper added his fourth of the day while Emery scored the first collegiate goal of his career as well. Spencer McGrath had a team-high three assists ahead of Card and Jake Gallagher who had a pair apiece.
Again, Owen and Loza split time in front of the cage, recording nine and six saves, respectively in the first and second half. McGrath tallied four steals and Mike Potter recorded a field block.
A weekend like this one was exactly what the Kingsmen needed as it served as a final tune-up before opening Southern California Intercollegiate Athletic Conference (SCIAC) action, which is what the main focus has been since the start of the season.
"The success this weekend is important going into SCIAC because the teams in our league are so equal." McGrath added, "If we all trust each other we will have a strong chance to win the title. This weekend we faced some adversity and overcame it. Going into SCIAC with a four game win streak is a great confidence booster and we all look forward to facing the challenges ahead as a team."
Cal Lutheran (8-10) will have to wait more than a week as the Kingsmen have an 11 day hiatus before opening league play on Wednesday, Oct. 16 at Pomona-Pitzer with first sprint set for 4:00 p.m.
Box Score: CLU 20, PSB 4 – box score not available at time of release
Box Score: CLU 19 , WJ 4 – box score not available at time of release
CLU Twitter: https://twitter.com/clusports
Follow David: @D_Sparks2
CLU Facebook: https://www.facebook.com/clusports