Regals Start Strong, Finish off Panthers
CLU moves to first place in SCIAC after victory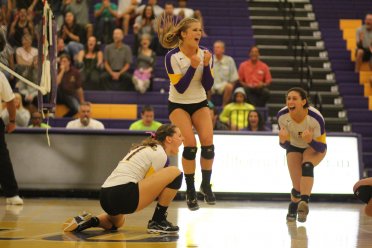 THOUSAND OAKS, Calif. – In a battle between the top teams in the Southern California Intercollegiate Athletic Conference (SCIAC) standings, it was No. 5 Cal Lutheran that started fast and withstood a furious rally from Chapman to win 3-1 (25-17, 25-21, 18-25, 25-23). With the win, Cal Lutheran improved to 6-0 in conference play and is now alone in first place in the standings. The Regals were led by Kylie McLogan and Pua Mo'okini-Oliveira, who combined for 27 kills and 16 digs.
The Regals seemed to feed off the boisterous crowd in the first set, building a lead as large 20-10 highlighted by a dump-shot from Jackie Russell. Several plays later, Cal Lutheran went up again by 10 after a service ace from Russell. CLU got to set point on a perfect picture set from Russell to Hayley Tamagni, who finished the play with a spike. Three points later, Cal Lutheran took the first set with a thunderous kill from McLogan.
The second set went back and forth as there were eight lead changes with no team leading by more than two. Cal Lutheran finally took the lead for good at 18-17 when a Chapman blocker went into the net for a blocking violation. The Regals got some much-needed breathing room after McLogan finished another kill and Kennedy Peters snuck in a service ace to get the score to 21-18. Chapman stormed back to make it 21-20 but McLogan came up with a powerful kill to put CLU back up by two. Cal Lutheran wasted little time finishing the set, converting two of the next three points and won 25-21.
Chapman showed why it is one of the top teams in the SCIAC, defeating CLU 25-18 in the second set. The Panthers capitalized on 10 CLU attacking errors while four different Chapman attackers had at least two kills in the set.
The teams continued to swap points to begin the third set until Cal Lutheran took a two-point lead at 7-5 thanks to back-to-back digs from Allie Eason that led to a Mo'okni-Oliveira kill. The Panthers would eventually tie the game at 12-12 before Caitlin Fransen put CLU back in front by two at 18-16. The teams fittingly were neck-and-neck down the stretch with Chapman tying the game late at 22-22. Eason would halt any more momentum for the Panthers, emphatically powering down an overpass, making the score 23-22. The sophomore then got the match to game-point with a service ace. After conceding a point, McLogan came up with the final cross-court kill for the win.
McLogan led CLU 14 kills while Mo'okini-Oliveira had 13. Lauren Rohach had nine kills, Eason chipped in with eight and Tamagni finished with seven.
Russell was her usual steady self, handing out 36 assists.
Defensively, Eason led CLU with 11 digs while McLogan and Peters each had 10.
Michelle Hammer led Chapman with 18 kills while Corrine Ostrovsky dished out 46 assists.
After the loss, Chapman falls to 12-6 and 5-1 in the SCIAC.
Cal Lutheran (16-1, 6-0 SCIAC) is back in action on Saturday, Oct. 5 when it travels to Pasadena, Calif. to take on Caltech. The match is set to get underway at 6:00pm.
Box Score: CLU 3 CU 1
Follow Kylie: @k_mclogan and Pua: @puamookini
CLU Facebook: https://www.facebook.com/clusports