CLU - Pomona-Pitzer Preview
CLU opens SCIAC schedule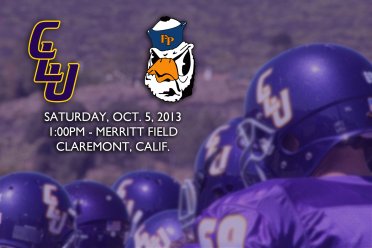 Game 3 for CLU: This Saturday, Oct. 5, No. 25 Cal Lutheran (0-2) open Southern California Intercollegiate Athletic (SCIAC) play when it goes on the road to take on the Pomona-Pitzer Sagehens (0-2). Kickoff is set for 1:00 p.m. at Merritt Field in Claremont, Calif.
Series History: Saturday's meeting will be the 25th time the teams have met with Cal Lutheran holding a 17-7 advantage in the series. The teams met for the first and second time in 1962 during the then California Lutheran College's inaugural season. CLC dominated the Pomona JV team 34-6 but fell to the Sagehens' varsity squad 28-13 in the last game of the season.
After not playing Pomona-Pitzer from 1996-2002, the two teams have met every year since with the Kingsmen going 9-1 against the Sagehens, including eight straight wins.
Last Meeting: Cal Lutheran hosted Pomona-Pitzer in the 2012 SCIAC opener with the Kingsmen coming away with a 38-10 win. CLU climbed out to a 28-0 halftime lead thanks to Eric Rogers' three first half touchdowns. Pomona-Pitzer would get a 50-yard touchdown catch and run from Yoshi Rothman in the fourth quarter but CLU would go on to win and improve to 6-0 in SCIAC openers under Head Coach Ben McEnroe.
About Cal Lutheran: Cal Lutheran enters Saturday's game 0-2 but looks to repeat as SCIAC champions for a record fifth-consecutive time.
The Kingsmen have been led senior running back Wayne Chapman (6-0, 205 lbs.), who has rushed for 256 yards including back-to-back 100-yard rushing performances against Pacific Lutheran and Linfield.
Senior quarterback Cameron Deen (6-4, 218 lbs.) has thrown for 282 yards and two touchdowns in his first two games for the Kingsmen. Sophomore tight end Alix Moise (6-2, 238 lbs.) has caught both of Deen's TD passes while senior running back Ryan Zirbel (5-8, 200 lbs.) has two rushing touchdowns.
Senior linebacker Chris Cabrera (6-0, 210 lbs.) leads the Kingsmen with 12.5 total tackles including three for loss. Sophomore linebacker Christian Bradley (6-2, 194 lbs.) tops CLU with two sacks while cornerbacks Ed Davis (5-8, 145 lbs.) and Randy Lee (5-10, 187 lbs.) each have an interception.
About Pomona-Pitzer: The Sagehens enter Saturday's game winless after suffering two tough losses to begin the season. Pomona-Pitzer nearly defeated MIT in the 2013 opener scoring 19 points in the fourth quarter but ultimately fell 28-26. The Sagehens then traveled to Northern California to take on NAIA member Menlo. Pomona-Pitzer's quarterback Peter Ianelli (6-0, 180 lbs.) passed for 126 yards and wide receiver Duncan Hussey (6-1, 180 lbs.) had six grabs for 83 yards in the 35-6 loss.
Hussey leads the SCIAC with four touchdown receptions and is second in the conference averaging 114 receiving yards per game. Running back Brett Harper (6-0, 180 lbs.) has rushed for 75 yards a score.
Senior linebacker Kyle Roskamp (6-0, 220 lbs.) leads the Sagehens with 22 total tackles while fellow linebacker Nick Sbardellati (6-0, 190 lbs.) is second with 16.
About the Coaches: Cal Lutheran Head Coach Ben McEnroe is in his seventh year at the helm of the Kingsmen football program, where he has compiled a 44-16 overall record. A former all-conference center for the Kingsmen, McEnroe joined his alma-mater 1993 as the offensive line coach. In 1998, he joined Division II Humboldt State, and in 2003, was named the head coach of Chaminade High School. After leading Chaminade to four straight CIF playoff appearances, McEnroe was named head coach of Cal Lutheran in 2006.
Since then, McEnroe has led Cal Lutheran to five conference titles in the six previous seasons, including consecutive SCIAC championships in 2009, 2010, 2011, and 2012.
Pomona Coach Roger Caron: A former fifth-round pick by Indianapolis Colts in 1985, Caron is in his 19th year at the helm of the Pomona-Pitzer football program.
In 1997, Caron helped guided an offense that was finished third in the country in yards per game (504) and points per game (46.6).
In 1999, Caron led Pomona-Pitzer to a 7-1 record and ranked #33 in the first-ever Division III Coaches' Poll.
Under Caron's tutelage, the Sagehens have earned several SCIAC Player of the year awards. Jonathan Samples ('04) and Jake Caron ('10) were named Offensive Player of the Year and Matt Barbour was named the Defensive Player of the Year in 2007.
Coach McEnroe on Pomona-Pitzer: The Kingsmen are coming off a bye week after opening the season with back-to-back nationally ranked opponents. Despite the two losses, McEnroe was encouraged by the gains the team made during the bye, "It has been a good mix of hard work and needed recovery. We've had some great sessions in the weight room." He continued, "At our stage of development, every day is critical because it is a true opportunity for growth."
"It is all about getting better and I feel like we are a better football team than we were the last time people saw us."
When asked about the challenges Pomona-Pitzer presents, the seventh-year head coach said, "Pomona is a team that competes hard against us, every year, regardless of match-ups or what the scoreboard says."
McEnroe also made mention that it hasn't been the other teams that have cost the Kingsmen two losses this season but rather themselves, "I give our kids credit, they have come ready to play every Saturday against two of the best teams in the country, that has not been an issue. Executing consistently at a high level has been the challenge."
With SCIAC play getting underway, Cal Lutheran will be in search of its record fifth consecutive conference championship. Since returning from Linfield, McEnroe said his message to his team was simple, "Look forward." He continued, "We don't have to be perfect to win the SCIAC, but we have to bring a championship focus and effort to get to where we need to be."
McEnroe finished with, "Morale is right where we want it; Humble, Angry, and Hungry. We're looking forward to this next challenge."
Keys to Victory:
1. Play faster than they can. Be relentless in everything that we do.
2. Be physical. Take the fight to them.
3. Don't beat ourselves with Turnovers/Sacks/Penalties.

Live Stats
Video

CLU Twitter: https://twitter.com/clusports
Follow Coach McEnroe: https://twitter.com/CLUCoachMac
Follow Andrew: https://twitter.com/squirrelyworly
Follow Chris: https://twitter.com/ccab9luball
Facebook: https://www.facebook.com/clusports