Regals Hang On Against Leopards
Gilbert's goal game-winner for CLU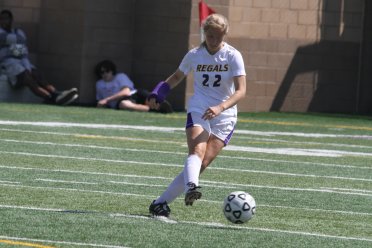 THOUSAND OAKS, Calif. – Playing without three starters including Southern California Intercollegiate Athletic Conference (SCIAC) leading scorer Kristina Hulse, Cal Lutheran built a three goal lead and then held on for a 3-2 victory over La Verne Wednesday night. The Regals got two goals from Taylor Will and the game-winning score from Stephanie Gilbert.
Both teams struggled to maintain possession in the opening stages and the first shot didn't come until the 17th minute when Bianca Deardorff fired one off from the top of the box.
In the 21st minute, Will navigated between two defenders on the end line before bending in a shot that the La Verne keeper was able to block. The rebound was collared by Brittany Eremita who then fed the ball to Gilbert and the senior sent a shot on goal but was blocked by a Leopard defender.
Cal Lutheran broke through with a highlight goal from Will on a free-kick in the 39th minute. The junior connected for her second goal of the season when she took a shot from 25 yards out that curled in, deflected off the left post and into the back of the net.
After halftime, CLU nearly got its second goal when Sierra Duarte and Will executed a perfect give-and-go in the 50th minute but Duarte was unable to get her shot passed the Leopard goalkeeper.
Minutes later, Will scored her second goal of the night on a free-kick from nearly the exact same spot as the first. Instead of curling it in, Will used a low line-drive shot that crossed the goalie's face and found the back of the net.
"It was nice to see Taylor play with the confidence we're used to seeing with her tonight," said coach Frank Marino. "She really set the tone for us and those two goals were huge in the end."
Starting in the midfield for the first time in her career, Gilbert scored her first career goal in the 55th minute when she headed in a corner-kick from Yahaira Hernandez for CLU's third score of the game.
Following a corner-kick, La Verne got its first goal from Jamie Weaver in the 63rd minute after she deflected in a loose ball, making the score 3-1.
Just three minutes later, Marisella Macias got La Verne to within in one when her shot caromed off Kristin Bailey's hand and into the goal.
The Regals defense held strong in the final moments and Kyndall Taylor's shot sailed over the cross bar as time expired, sealing the victory for CLU.
Bailey recorded two saves in goal while her counterpart, ULV goalie Delanie Pacheco came up with three.
With loss, La Verne falls to 5-5-1 and 2-2-1 in the SCIAC.
Cal Lutheran (7-3, 5-1 SCIAC) now travels to Chapman to take on the Panthers next Saturday, Oct. 5. Kickoff is set for 11:00am.
Box Score: CLU 3 ULV 2
CLU Twitter: https://twitter.com/clusports
Follow Karly: @Karlyloberg00
CLU Facebook: https://www.facebook.com/clusports