Regals Stifle Bulldogs in 3-0 Sweep
Regals sweep Redlands 3-0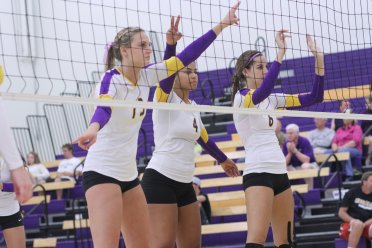 REDLANDS, Calif. – Pua Mo'okini-Oliveira and Hayley Tamagni combined for 13 kills on 25 swings with just one error as CLU breezed past Redlands 3-0 (25-22, 25-11, 25-16) Tuesday night. The Regals used 14 different players and had an attacking percentage of .344 in the victory. With the win, Cal Lutheran improved to 5-0 which is best in the Southern California Intercollegiate Athletic Conference (SCIAC).
Despite the final score, getting there for Cal Lutheran was far from easy in the first set.
Cal Lutheran fell behind early and then later Redlands led by as many as seven at 20-13 forcing CLU to call a timeout. Coming off the break, the Regals responded with a 7-1 run to get it back to 21-20. Jackie Russell sparked the streak with a put-back kill on an overpass and then Kylie McLogan had one of her five first set kills on the next point. The Regals would continue their run thanks to a spectacular one-handed pancake dig from Kennedy Peters that directly led to another McLogan kill. Cal Lutheran took the lead for good at 23-22 after Allie Eason had a kill from the back row and then two points later completed the improbable comeback whenMo'okini-Oliveira finished a spike for the decisive point.
Riding the momentum of the first set, Cal Lutheran used a 5-0 run in the initial stages of the second to break open the match. Later, CLU increased its lead to 19-7 led by two kills from Hannah Orlandi. The Regals would go on to cruise to a second-set 25-11 victory.
In the third and final set, Cal Lutheran dug into its bench and was rewarded as seven different players tallied kills.
Orlandi and Tamagni led CLU with seven kills each while McLogan and Mo'okini-Oliveira had six. Eason was third with five kills while Russell had three. Rounding out the attackers were Caitlin Fransen and Monica Lundgren who each notched two kills.
Russell led CLU with 27 assists while Jena Chavez had seven.
Hannah Nua knocked in a service ace in the only set she played.
Defensively, Cal Lutheran was led by Eason who had 11 digs. Peters was second with 10 and Nicki Tetherow was third with six. Freshman Nicky Lyon also came up with two digs.
Morgan Buckner led the Bulldogs with nine kills. After the loss, Redlands falls to 5-8 overall and 2-4 in the SCIAC.
Cal Lutheran (15-1, 5-0 SCIAC) is now set to host Chapman on Friday, Oct. 4. The two top teams in the SCIAC are set to square off at 7:30pm.
Box Score: CLU 3 UR 0
Follow Kylie: @k_mclogan and Pua: @puamookini
CLU Facebook: https://www.facebook.com/clusports