Regals Place Third at Embry-Riddle Invitational
CLU concludes fall schedule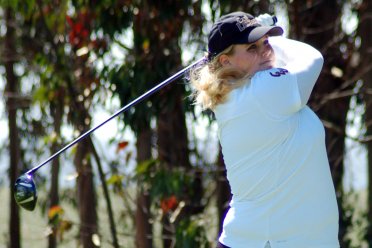 PRESCOTT, Ariz. – One day removed from a record-breaking day by the Cal Lutheran women's golf team the Regals were back on the course to wrap up the 2013 Embry-Riddle Invitational at Talking Rock Golf Course where the Violet and Gold placed third in a field of eight.
CLU combined for a 322 today to finish with a three-round total of 944 (+80) to claim third place behind CSU San Marcos (922) and Southern California Intercollegiate Athletic Conference (SCIAC) foe Redlands (943) by just one stroke. Cal Lutheran was ahead of Claremont-Mudd-Scripps (953), host Embry-Riddle (967), Arizona Christian (1051), Biola (1054) and Texas Lutheran (1069).
Drew Thomas led the pack today as the only CLU golfer under 80 with a 77 (+5) to finish with a 54-hole total of 232 (+16), which placed her fifth as an individual. Hannah Purdy was the second Regals golfer home on Monday with an 80, followed by McKay Weiler (82) and Jenna Gimbel (83). Danika Cochiolo was one stroke away from sharing a tie for the fourth position with an 84.
In the individual standings, Gimbel placed seventh with a 235 (+19) total, Cochiolo was 11th posting a 240 (+24), Weiler was tied for 13th at 243 (+25) and Purdy rounded out the Regals by tying for 22nd with a 249 (+33).
Representing CSU San Marcos, Taylor Coover was the low golfer at a six-over 222 overall. She shared the lead with Cochiolo in the opening round before leading all players in the second round with a weekend low-73. In the final round she shot a 75, which was the second lowest score.
Cal Lutheran golfers have concluded the fall portion of their schedule and will work diligently towards maintaining the momentum they have created when they return to the course in the spring of 2014.
Results: CLU 3rd (944) +80
CLU Twitter: https://twitter.com/clusports
Follow McKay: @CLU_Golf
Facebook: https://www.facebook.com/clusports