Athenas Snap CLU Win Streak
Regals fall for first time in SCIAC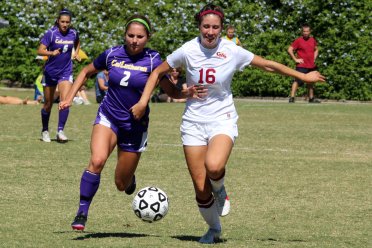 CLAREMONT, Calif. – On a warm, clear, Saturday morning at Pritzlaff Field on the campus of Claremont-Mudd-Scripps the Athenas snapped a five game Cal Lutheran win streak handing the Regals their first league loss of the season, 2-1, in a Southern California Intercollegiate Athletic Conference (SCIAC) battle.
From the whistle the teams swapped possession and though the Regals fired off eight shots to the Athenas' two it was the CMS squad that put up a crooked number first. In the 37th minute Gabriela Ozer scored on an assist from Samantha Kunz for the only offensive output in the opening half, giving Claremont-Mudd-Scripps a 1-0 advantage at the intermission.
After the break, CMS pushed that lead to 2-0 when Kerry Moller and Hannah Rosenberg teamed up for the ultimate game-winning goal in the 51st minute.
CLU looked to senior Kristina Hulse 20 minutes later to convert a penalty kick, which she did, to cut the deficit in half, but it turned into the only scoring of the game for the Regals.
The second half was much more evenly matched with CLU and CMS combining for just five shots.
Overall the Regals earned more corner kicks with five. Bianca Deardorff led all players with four shots, three on target, while Hulse had two with both on goal. Bailey Marquez was the only other player for the Violet and Gold to take more than one shot. Nicole Campbell and Brittany Eremita rounded out the offense.
Kristin Bailey guarded the cage for all 90 minutes, saving two CMS shots.
Claremont-Mudd-Scripps (2-5-2, 1-2-1 SCIAC) picked up their first SCIAC win of the season today. The Athens got shots from four different players. Sharing time in front of the CMS net were Hannah Dunham and Molly Freed who tallied three and two saves, respectively.
Cal Lutheran (6-3, 3-1 SCIAC) will be back in action on Wednesday, Oct. 2 at 7:00 p.m. when they host La Verne at William Rolland Stadium.
Box Score: CMS 2, CLU 1
CLU Twitter: https://twitter.com/clusports
Follow Karly: @Karlyloberg00
CLU Facebook: https://www.facebook.com/clusports