CLU Stretches Unbeaten Streak to Eight
Kingsmen top Beavers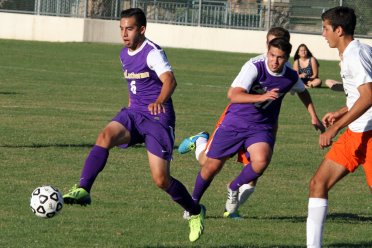 PASADENA, Calif. – Coming off a thrilling double overtime victory, the Cal Lutheran men's soccer team continued their winning ways on the road today, shutting out Caltech 3-0 in Southern California Intercollegiate Athletic Conference (SCIAC) action to stretch their unbeaten streak to eight.
One win away from matching their 2012 total, the Kingsmen came out strong and controlled the momentum against the Beavers as 27 players donning Violet and Gold stepped onto the field today.
Before the intermission, Cal Lutheran scored a pair, by way of Alex Wardle and Nick Baldi. The first and ultimate game-winner came via a header by Wardle off a corner kick by Salvador Orozco in the 32nd minute. Four minutes later at the 35:33 mark Nick Baldi scored on a deflection from a header to record his first goal of the season.
In the second half, Orozco added to the cushion with a shot from 20 yards out that found the back of the net for the third and final goal of the game in the 59th minute.
CLU doubled up CIT on total shots 18-9 with seven on goal while the Beavers fired off five at the cage, all of which were turned away by goalkeeper Jack Duncan. Cal Lutheran also earned six corner kicks, allowing just one in the first half.
Leading the offensive assault today for the Violet and Gold were Orozco and reserve Sergio Torres who took three shots apiece. Five different Kingsmen took two shots apiece today as well.
Mason Cleek and Zach Torres eachmade his collegiate debut today.
For Caltech (0-8, 0-6 SCIAC), John David Feist had three saves as the goalie. Offensively Alec Sands has three shots with two on goal and Evren Gokcen fired off a pair, both on target.
Cal Lutheran (7-1-1, 5-0-1 SCIAC) is on the road Monday night, Sept. 30, as they travel to Whittier. Kickoff with the Poets is scheduled for 7:00 p.m.
Box Score: CLU 3, ULV 0
CLU Twitter: https://twitter.com/clusports
Follow Tal: @KingsmenSoccer1
CLU Facebook: https://www.facebook.com/clusports