Regals Off to Best Start in Eight Years after Sweeping Occidental
CLU sweeps Occidental 3-0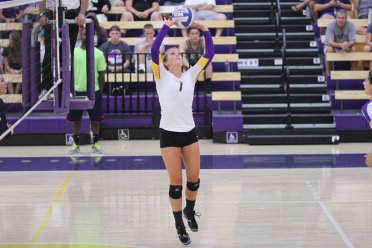 THOUSAND OAKS, Calif. – The No. 5 Cal Lutheran volleyball team took care of business Friday night against Occidental, sweeping the Tigers 3-0 (25-12, 25-16, 25-23) and improved to 3-0 in the Southern California Intercollegiate Athletic Conference (SCIAC). CLU outside hitter Kylie McLogan led all players with 16 kills and had an attacking percentage of .412 after committing just two errors on 34 swings. Since falling to Oxy twice during 2011 season, the Regals have now won four straight in the series.
After dropping the first set in each of its last two games, Cal Lutheran used an 8-2 run midway through opening game to take the lead for good. Pacing the attack during the run was Allie Eason who had three kills and McLogan who had two. The Regals also got three kills in the final six points from middle blocker Hayley Tamagni and cruised to the first set victory.
Three errors plagued CLU as it opened the second set trailing 7-3. Sparked by a Lauren Rohach kill, Cal Lutheran stormed back using an 8-0 run which was bookend by three-straight kills from McLogan. Cal Lutheran would stretch its lead 24-16 and then Kennedy Peters knocked in a service ace for the winning point of the set.
The Tigers challenged the Regals in the final set, leading as late as 17-14. Cal Lutheran began to mount its comeback after kills from Eason and Rohach got the score to 17-16. Oxy would go back up at 18-16 before a Tiger attacking error and another kill by Rohach got the game tied at 18. CLU gave Oxy spotted a point before kills from Eason and McLogan gave the Regals their first lead of the set at 20-19.
Later and winning by the slimmest of margins, Pua Mo'okini-Oliveira came up with a huge block on an Oxy attack, getting CLU to set and game-point. On the following point, Tamagni smashed sixth kill of the match for the game-winner.
With the 13-1 start, the Regals are off to their best start in 12 years when the 2001 team went 19-0 to begin the season.
Eason was second on the team with 12 kills while Rohach had five and Caitlin Fransen had two. Using two setters, Cal Lutheran got 27 assists from Jackie Russell and 10 from Jena Chavez.
Peters led CLU with 12 digs defensively.
Dana Michaels led the Tigers with 13 kills and while Alyssa Mort had 11.
With the 13-1 start, the Regals are off to their best start in eight years when the 2005 team went 17-0 to begin the season.
After the loss, Occidentals falls to 8-4 and 2-2 in the SCIAC.
The Regals have a quick turnaround as they host No. 22 Claremont-Mudd-Scripps Saturday, Sept. 28. The match is set to get started at 6:00pm inside of Gilbert Arena.
Box Score: CLU 3 OXY 0
Follow Kylie: @k_mclogan and Pua: @puamookini
CLU Facebook: https://www.facebook.com/clusports