Kingsmen Blanked by Gauchos
CLU falls to Division I opponent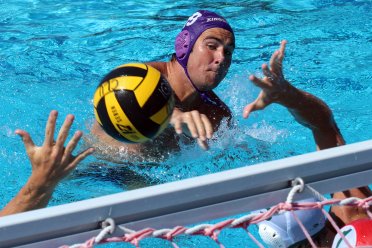 THOUSAND OAKS, Calif. -- The Cal Lutheran water polo team continued its rugged non-conference schedule Friday, falling to Division I power UC Santa Barbara 17-0 at the Samuelson Aquatics Center. The Kingsmen had chances on offense firing, 17 shots on goal including three from Max Zappas but couldn't break through the Gaucho goal-tending duo of Kyle Garwick and Liam Lenihan. UC Santa Barbara marked the seventh Division I opponent CLU has faced in its last 14 games.
The Gauchos started fast scoring six goals in the first quarter and four more in the second. CLU goalkeeper Jesse Owen played the first half, notching two saves and a steal.
UCSB would round out the game's scoring in the second half with four goals in third quarter and three in the fourth.
Zappas had the best day for the Kingsmen, drawing three exclusions to go along with three shots while also coming up with a steal. Teammate Nathan Ortega led the team with three steals while Shea Craig, Zach Graper, Mike Potter and David Sparks all tallied a steal each. Potter also drew two exclusions and had a field block.
Zach Loza played the second half in goal for the Kingsmen and recorded two saves.
Anthony Buljan and Nicholas Johnson each had two goals in the victory for the Gauchos.
Cal Lutheran (4-10) now turns its attention to the final non-conference games of the season when it travels to Claremont, Calif. for the Gary Troyer Invitational. The Kingsmen get underway on Friday, Oct. 4 when they take on Concordia (Calif.) at 12:20pm. CLU then turns around and plays George Washington at 5:40pm. Rounding out the weekend, Cal Lutheran plays Iona and Penn State-Behrend on Saturday, Oct. 5.
Box Score: UCSB 17 CLU 0
CLU Twitter: https://twitter.com/clusports
Follow David: @D_Sparks2
CLU Facebook: https://www.facebook.com/clusports