Regals Outlast Sagehens in Five Sets
CLU wins 3-2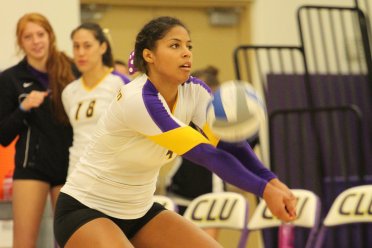 THOUSAND OAKS, Calif. – The old mantra goes, "the good teams always find a way to win" and that certainly was the case Tuesday night for Cal Lutheran. The No. 5 Regals never quite found a rhythm but still gutted out a 3-2 (25-21, 25-27, 25-20, 21-25, 15-13) victory over Southern California Intercollegiate Athletic Conference (SCIAC) foe Pomona-Pitzer. The normally stout CLU defense was gouged for 32 kills by Pomona-Pitzer outside hitter Allie Frappier but the Regals responded with four attackers going for double figures in kills.
The fight was on from the get-go as the Regals overcame a sluggish start to the first set, trailing 10-9 before Kylie McLogan put CLU in front with two kills over the next five points, including a back-court attack and finish that made it 13-11. The lead was short-lived as Pomona-Pitzer rallied back to tie the score due in part to two Regal attacking errors.
The teams continued to exchange points until Cal Lutheran got some breathing room thanks to another kill from McLogan and a push kill from Allie Eason down the line that made the score 20-18. After a Pomona-Pitzer kill brought it within two, Lauren Rohach put down a spike off a quick set from Jackie Russell that made the score to 22-19. CLU and Pomona-Pitzer then traded scores before Pua Mo'okini-Oliveira converted a back-court kill to bring the game to set-point. The Regals would coax Pomona-Pitzer into an attacking error two points later, resulting in a first set victory for CLU.
Pomona-Pitzer used a strong block and a myriad of tip shots to keep CLU off balance as it controlled much of the second set. Cal Lutheran battled tough down the stretch, fending off set-point twice before an attacking-error spoiled the game and allowed Pomona-Pitzer to win 27-25.
The Regals look like a refocused squad coming into the third set, jetting out to a 9-3 start. A stingy Pomona-Pitzer side would rally back however, bringing the score to 12-9. Later, Jena Chavez had a quality set that led to an Eason kill and a big Regal block on the next point brought the score to 17-11 in favor of CLU. The Sagehens would again make a push, getting the score to 22-18 but McLogan came from the back row to smash a kill and Caitlin Fransen got CLU to set point after a cross-court winner. After conceding two points, McLogan gave Cal Lutheran the third set victory with a kill that found its way through two Sagehen blockers.
Pomona-Pitzer and its blockers stifled Cal Lutheran in the fourth set, holding CLU to nine kills and forced six errors. The Regals also had no answer for Frappier on offense as she willed Pomona-Pitzer to a 25-21 set win on the back of six more kills.
A dramatic conclusion was only fitting for the tension-filled match. Pomona-Pitzer grabbed an early lead and maintained an 8-6 advantage at the break after a CLU service error. A couple points later, after a mad scramble for the ball, Kennedy Peters lifted a serve to Mo'Okini-Oliveira who then finished the play and knotted the teams at 11. Pomona-Pitzer suffered an attack error on the next point before Eason and Frappier exchanged kills, making the score 13-12 in favor of CLU.
After being on the receiving end of the touch kills all night, Rohach gave Pomona-Pitzer a dose of its own medicine, floating the ball narrowly over a Sagehen blocker and giving CLU match-point at 14-13. After a back-and forth rally, the Sagehens yielded a costly back-court violation that sealed the win for the Regals.
Cal Lutheran was led by Eason and McLogan who both notched double-doubles. Eason had 13 kills to go along with 11 digs while McLogan led CLU with 19 kills and 11 digs. Hayley Tamagni was second with 14 kills and three block assists while Rohach finished with 11 kills and four block assists.
Russell made the Regals attack go with 50 assists while Chavez contributed 12 of her own.
In addition to Frappier's 32 kills on 69 swings, Pomona-Pitzer got nine kills from Ellen Yamasaki and 39 assists from Elizabeth Sun.
Cal Lutheran (12-1, 2-0 SCIAC) will be in action next Friday, Sept. 27 when it travels to Occidental to take on the Tigers. The match is set to get underway at 7:30pm.
Box Score: CLU 3 PP 2
Follow Kylie: @k_mclogan and Pua: @puamookini
CLU Facebook: https://www.facebook.com/clusports