Fleming Scores Golden Goal
Kingsmen, Leos battle to bitter end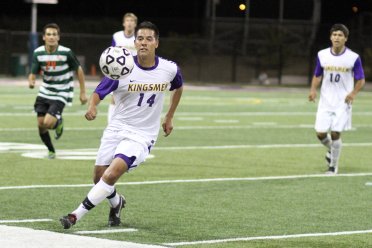 THOUSAND OAKS, Calif. – In a battle of the top two Southern California Intercollegiate Athletic Conference (SCIAC) teams, it came down to the 1:09.53 mark to determine a winner as Cal Lutheran triumphed over La Verne in a 2-1 double overtime victory.
With eight seconds remaining in the second extra period Salvador Orozco fired off one of the hardest, straightest, most accurate shots of the game from 30 yards out and when ULV goalie Dylan Roberts made an incredible save the ball, luckily for CLU, tricked just out of reach for Kyle Fleming to tap into the back of the net, sending to bench and fans into a frenzy.
Both teams had ample opportunities throughout the game with the squads combining for 45 shots. Not only was it an offensive outpouring, but the game also saw 38 combined fouls and seven yellow cards, demonstrating the physicality of the contest.
After a scoreless opening half, in which CLU goalie Jack Duncan turned away four shots including two on the same play on back-to-back Leopards shots in the 36th minute, La Verne struck first.
Saul Uribe was able to score off a cross from David Gonzales on the right side of the field in the 51st minute. Just over eight minutes later CLU used a La Verne foul to their advantage when Alex Wardle netted a penalty kick to equalize the score.
More opportunities presented themselves in the first overtime period, though the Leopards outshot the Kingsmen 4-0. In the 93rd minute, CLU earned a 3-on-1 situation, but was unable to put up a crooked number. ULV retaliated in the 98th minute with a laser of a shot, but Duncan made a huge diving stop.
Each team shot once in the second OT and Duncan again came up with a game-saving block.
Overall, the CLU goalie finished with 10 saves while his counterpart Roberts had nine. The defensive unit, despite the one early breakdown that allowed the lone ULV goal of the game, was solid once again. Jorge Galvan, Matthew Scipione, Alex Wardle and Tal Zaiet teamed up for a scoreless first half. Gabriel Fernando and Henry Breheny brought fresh legs to the backfield off the bench.
Fleming and David Gonzalez led the Kingsmen and Leopards, respectively, with five shots to share the game-high. Orozco took three, all on goal, while Wardle also fired off a trio for the Violet and Gold.
Cal Lutheran (6-1-1, 4-0-1 SCIAC) will be on the road for their next two games. Saturday, Sept. 28 the Kingsmen travel to Pasadena to play Caltech at 4:00 p.m.
Box Score: CLU 2, ULV 1 - 2 OT
CLU Twitter: https://twitter.com/clusports
Follow Tal: @KingsmenSoccer1
CLU Facebook: https://www.facebook.com/clusports