Hulse Tops Division III Players in Assists
CLU senior tied for national lead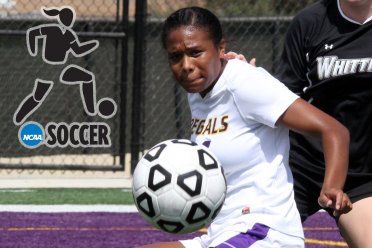 INDIANAPOLIS, Ind. – In the second official NCAA Division III women's soccer national statistical release, Cal Lutheran senior Kristina Hulse headlined the assists category as she is currently tied for the national lead.
The forward from Palmdale, Calif. has not only dished out the ball to her teammates by providing eight assists in seven games, she has also scored five goals of her own early in her senior season.
"I am impressed by Kristina's ability to create opportunities for others this season," head coach Frank Marino shared.
In each game this fall Hulse has been part of at least one scoring play.
Against UT-Dallas she had two assists, also tallying a goal against the Comets. Twice she scored a pair, recording two-goal games against Pacific Lutheran and Whittier.
She holds the top ranking with Megan Mahoney from Misericordia. Additionally, Hulse is second in the nation in assists per game with 1.14, again tied with Mahoney.
Cal Lutheran (5-2, 2-0 SCIAC) will be back in action on Wednesday, Sept. 25 against Occidental with kickoff set for 7:00 p.m. inside Rolland Stadium.
NCAA: Division III National Rankings of Games through 9/23/13
CLU Twitter: https://twitter.com/clusports
Follow Karly: @Karlyloberg00
CLU Facebook: https://www.facebook.com/clusports