Record Start for Regals Golfers
CLU posts strong start to season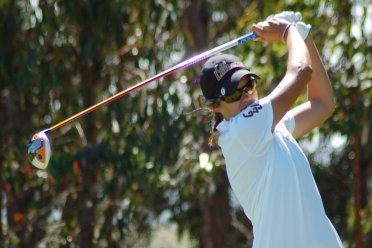 NIPOMO, Calif. – If the opening weekend of the Cal Lutheran women's golf season was an indication of what is to come, it is going to be a great year for the Regals who started with the best team round, which included three scoring players in the 70's, and lowest 36-hole total since the inception of the program this weekend at the Firestone Grill Cal Poly Invitational at Monarch Dunes Golf Course.
On Saturday during the first round of action Cal Lutheran players combined for a 318. The team-lead was shared by Danika Cochiolo, Jenna Gimbel and Drew Thomas as the trio shared a ninth place tie with a 79. Both Cochiolo and Thomas shot a 38 on the front nine before finishing up with 41's. Gimbel used a 42 over the first nine holes and came back with 37 strokes for her total.
McKay Weiler was two swings behind with an 81 as the final scoring spot of the season opener. Hannah Purdy shot an 83 in her first round for the Regals.
After day one, CLU sat in second place behind host Cal Poly (290) and ahead of three other Division I programs.
The Regals struggled a little bit on the second and final day of competition, combining for a 334, dropping to fourth place. However, the combined 36-hole total of 652 was a school record for the third-year program.
Purdy came back on Sunday to shoot a team-low 80, finishing 11th overall with a 163. Cochiolo and Thomas tied for 12th by each combining for a 164, shooting a pair of 85's on day two. Weiler was one stroke back at 165 with another 85 today for the final scoring position. Gimbel concluded her first CLU tournament with an 88 and a total of 167.
Madison Hirsch was the top individual for Cal Poly, shooting a 140 (66-74) and was the only women's golfer to shoot under par in either round. Additionally, the Cal Poly "A" team earned first place with a two-day total of 591.
"It was a great start to our season," head coach Jeff Lindgren went on, "We hope to ride this momentum into the Embry-Riddle Invitational next week.
Cal Lutheran will travel to Prescott, Ariz. for the tournament that is set to take place at Talking Rock Golf Course on Sunday and Monday, Sept. 29-30 with tee times set for 8:00 a.m.
Results: Day One
Results: Day Two
CLU Twitter: https://twitter.com/clusports
Facebook: https://www.facebook.com/clusports