Strong Season Opener for Kingsmen
CLU plays well at invitational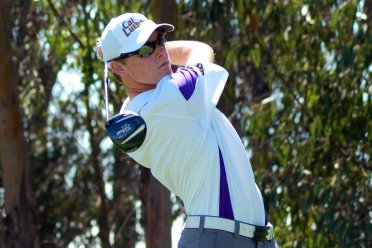 NIPOMO, Calif. – The spring success of the 2013 Cal Lutheran men's golf team has carried over to the fall of 2013 as the Kingsmen opened their season with a strong showing at the Firestone Grill Cal Poly Invitational at Monarch Dunes Golf Course over the weekend.
Mikey McGinn had another great event, finishing second overall with a 137 as one of three players to shoot under par both rounds. The senior opened the tournament with a 69 and followed up with a 68 on Sunday, recording nine birdies and an eagle over the 36 holes.
In his first competition for the Violet and Gold Nate Gray had a phenomenal debut, placing fourth after shooting an even par-71 on day two following an opening round of 73 on Saturday for a 144 total.
Day two saw Alex Hird improve by five strokes to shoot a one-over par 72 on Sunday. His round one 77 was the final scoring spot for CLU on the first day of the season. Overall, Hird used 149 swings this weekend.
Rounding out the scoring golfers for Cal Lutheran at the invitational was Barret McGinnis who used a 74 and 76 on Saturday and Sunday, respectively, to finish with a 150, one swing more than Hird.
Junior Kyle Cole made his first tournament appearance for the Kingsmen, opening with a 78 and finishing with an 83 for a 161 total.
Competing against familiar foe Claremont-Mudd-Scripps and a pair of Division I programs, CLU placed third with a 580, just seven strokes back of the always-competitive Stags who won the event. The individual winner was Kethen Reddy from CMS with a 133 (66-67).
Cal Lutheran will be back in action Sunday and Monday, Sept. 29-30 in Prescott, Ariz. for the Embry-Riddle Invitational at Talking Rock Golf Course. Teams will tee off at 8:00 a.m.
Results: Day One
Results: Day Two
CLU Twitter: https://twitter.com/clusports
Facebook: https://www.facebook.com/clusports