Kingsmen Place 11th at Mustang Challenge
CLU runs well in second meet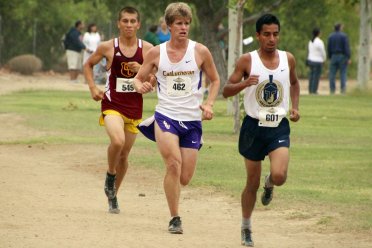 SANTA CLARITA, Calif. – The second meet of the season for the Cal Lutheran men's cross country team was a solid showing at the Second Annual Mustang Invitational featuring Division I, II, NAIA and community college teams was hosted by The Master's College at Central Park in Santa Clarita, Calif. As the only Division III program at the event, the Kingsmen placed 11th.
After being forced to withdraw from the opening race of 2013, Matthew Garvin returned to the competitive ranks today by pacing the Violet and Gold in a time of 26:53. 61. He led a team that improved from two weeks ago as the Kingsmen have their sights set on making a move in the league rankings next month.
Just behind Garvin was sophomore Nick Privitelli, the only other CLU runner to finish the 8K with a sub-27 minute time in 26:57.17. Garrett Baker was the third Kingsmen home clocking a 27:10.31 and David Avila earned fourth place points today after going a 27:22.67. Pushing each other throughout the race, Dominick Allen (27:5.82) finished just ahead of Ryan Perez (28:02.50) to earn the fifth and final scoring spot for Cal Lutheran this morning.
Shawn Jackson ran on the heels of Perez, turning in a time of 28:29.77. Rounding out the CLU squad today were Christopher Dunn (30:06.12) and Daniel Tustin (31:12.93).
The individual champion today was unattached runner Nick Hartle who led all runners in 25:02.30, which is a 5:02.3 mile pace.
Earning the team title at the meet was Cal State San Marcos, followed by Glendale and host The Master's to round out the top-three teams.
Cal Lutheran returns to the course on Saturday, Oct. 5 at the Pomona-Pitzer Invitational. The men's 8K begins at 7:45 a.m. followed by the women's race at 8:30 a.m.
Results: CLU – 11th
CLU Twitter: https://twitter.com/clusports
Follow Amanda: @webringinXCback
CLU Facebook: https://www.facebook.com/clusports