CLU Finishes Fourth at Mustang Challenge
Regals at top of field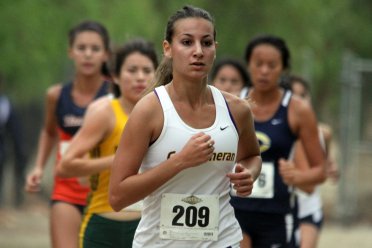 SANTA CLARITA, Calif. – On the perfect morning for a race, featuring a cloud covered sky and cool temperatures, the Cal Lutheran women's cross country team turned in a solid performance against some of the top Division I, II, NAIA and community college programs in the country at the Second Annual Mustang Invitational hosted by The Master's College at Central Park in Santa Clarita, Calif. The Regals represented the only Division III squads at the meet and placed fourth among the college team entries.
A week off between the opening race of the season and competition today was key for the Regals as a whole during the 5K. Everyone who suited up today had a solid performance.
A trio of seniors led the pack today. The top CLU finisher was Melissa Skiba who crossed the line in 18:04.84 as the third college division runner. Ahead of Skiba were Hannah Kellerman (The Master's) and Ayded Reyes (Cal State San Marcos) who placed first and second in 17:49.76 and 10:00.28, respectively.
Running second for the Regals was Ashley Frese, the 12th overall finisher. The harrier clocked in at 18:39.78, just over a six-minute mile at 6:00.5. Third for CLU was Natalie Bullock, the 28th overall finisher, in 19:12.41.
Rounding out the top-five for Cal Lutheran was the junior-freshman duo of Amanda Miller and Sarah Parsons. The pair ran stride-for-stride to complete the course back-to-back in 19:33.27 and 19:34.70, separated by just 1.53 seconds.
Taelor Young (19:50.87) was sixth across the line for the Regals, followed by Jessica Infald (19:55.28), Chantal White (20:15.87), Kathi Kirkeby (22:45.28), Amy Falahat (23:00.81) and Kelsey Lewis (23:34.95).
Cal Lutheran has another two week hiatus before toeing the line again on Saturday, Oct. 5 at the Pomona-Pitzer Invitational. The starting gun will sound at 8:30 a.m. for the women's 6K race after the men's 8K kicks off at 7:45 a.m.
Results: CLU – 4th
CLU Twitter: https://twitter.com/clusports
Follow Amanda: @webringinXCback
CLU Facebook: https://www.facebook.com/clusports