Kingsmen Conclude UCSD Invitational
Kingsmen face top Division I teams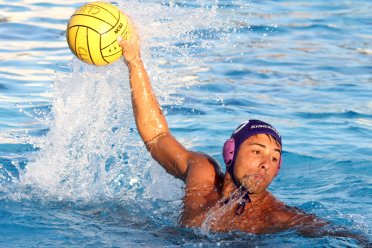 SAN DIEGO, Calif. – The Cal Lutheran men's water polo team had their work cut out for them on the second and final day of the UCSD Invitational as the Kingsmen were slated to face Division I No. 2 UCLA and No. 11 UC San Diego. The Violet and Gold put up a fight in both games, falling 21-7 and 14-3, respectively, but returning home with a lot of lessons learned.
For the second consecutive day everyone saw playing time.
In the Sunday opener against the host Tritons, both Camron Hauer and Cameron Knudsen scored the first collegiate goal of his career. Max Zappas rounded out the scoring in the 14-3 loss. Hunter Hamaker drew three ejections for the Kingsmen against UCSD. Freshman Zack Card contributed with two assists, also coming away with a pair of steals. Jesse Owen played all four quarters in front of the CLU cage, turning away 10 UCSD shots.
The nightcap saw the Kingsmen score in every period against the Bruins, despite the loss. Six different players found the back of the net with Jake Gallagher scoring twice and Zach Graper notching the first goal of his CLU career. Also adding to the tally were Card, Hauer, Shea Craig and Nathan Ortega.
Defensively, Zappas came up with a trio of steals. CLU goalies Owens and Zach Loza split time guarding the goal, recording five and four blocks, respectively. Loza also added a steal in the second half.
Cal Lutheran (0-4) is on the road next weekend, traveling to the East Coast to play in the Brown Invitational. The Kingsmen play five games in three days, starting with Connecticut College on Friday, Sept. 13 at 2:00 p.m. (PST) followed by a 5:00 p.m. showdown with host Brown. Live video will be available for the tournament.
Results: UCSD 14, CLU 3
Results: UCLA 21, CLU 7
CLU Twitter: https://twitter.com/clusports
Facebook: www.facebook.com/clusports