Regals Rebound with Win over UT-Dallas
CLU scores three unanswered goals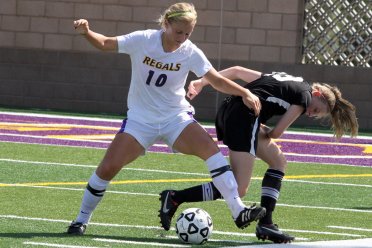 RICHARDSON, Tex. – Like déjà vu from a week ago in Washington, the Cal Lutheran women's soccer team opened up their Texas road trip with a loss only to recover with a shutout victory tonight, defeating UT-Dallas by a 3-0 margin for their second win of the season.
Everything came together for CLU tonight at both ends of the field.
The Regals got all the scoring they would need early with Bianca Deardorff and Kristina Hulse teaming up for a pair before Hulse netted a goal of her own.
At the 13:35 mark Hulse passed the ball up the middle as Deardorff took off in a one-on-one situation, finding the back of the net for the second time in as many games. Less than three minutes later the duo did it again when Hulse streaked down the left side of the field and passed inside the UTD box where Deardorff put it away for a second time, pushing the CLU lead to 2-0.
In the 21st minute Hulse looked to Alli Calabrese who recovered the ball after a shot hit the post, marking the third and final goal of the half and game.
Tonight 21 different Regals stepped onto the field with Katrina Rocha making her collegiate debut. Karly Loberg manned the cage in the second half, turning away one shot, in her first game of the season. Kristin Bailey played the first 45 minutes, recording four saves.
Of the 13 shots that CLU took tonight, 10 were on target with Calabrese, Deardorff and Hulse firing off three apiece. All of the shots Deardorff took were on the mark and Hulse had two on goal while Calabrese had one.
Defensively the Regals produced their second shutout of the season despite the Comets tallying 17 shots. The pressure that CLU brought allowed just five to be on goal. Julia Saba paced UTD with three chances. Macaire Ament came into the game in the 21st minute and made four saves as the UT-Dallas goalkeeper.
Cal Lutheran (2-2) has another quick turnaround, playing Sunday at Austin College beginning at noon.
Box Score: CLU 3, UTD 0
CLU Twitter: https://twitter.com/clusports
Facebook: https://www.facebook.com/clusports