Second Home Shutout for Kingsmen
CLU wins back-to-back contests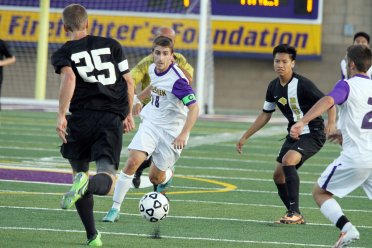 THOUSAND OAKS, Calif. – For the second consecutive home game the Cal Lutheran men's soccer team shutout their opponent, defeating George Fox 4-0 in Rolland Stadium. Kyle Fleming was responsible for three of the four goals.
Cal Lutheran had a quick start tonight against George Fox. From the kickoff, taken by Ivan Sanchez, Fleming controlled a breakaway ball and scored 22 seconds into the match, marking his first goal of the season. Before the end of the half Fleming scored his second goal of the night as a header, with an assist from Tal Zaiet.
In the second half Fleming scored his third and final goal of the game as a rebound from a shot taken by Thiago Gaglianone. Within minutes of Fleming's hat-trick goal, Julian Hernandez followed with his first goal of the season on an assist from Nick Baldi, marking the fourth and final CLU goal of the game.
The first half was mainly controlled by the Kingsmen who took 10 shots within the first 45 minutes. The team was more cohesive than ever, which only resulted in good things for the Kingsmen.
Tonight Zaiet was always in the right place at the right time. In addition to assisting Fleming's second goal, he blocked shots from Myles Sorokovsky and Angelo Florez within the CLU goal box.
In the second period both teams were fighting for possession of the ball as the half was much more physical, resulting in more fouls being called. During the final 45 minutes both teams took more shots on goal and played the entire field.
CLU outshot George Fox 16 to 13 though they each had seven on target. Cal Lutheran goalie Jack Duncan turned away all seven while his counterparts, Ricardo Sotelo and Luke Ridder, combined for just three as they split time in front of the cage. The Kingsmen also earned more corner kicks (5) than the Bruins (3).
Tonight for the Violet and Gold 29 players stepped onto the field. Appearing in his first game for Cal Lutheran were Omar Caballero, Chris Cordova and Branden Vogl.
George Fox (1-2) was led tonight by Nick Schoen and Luke Hammer who combined for five shots all on goal.
Cal Lutheran (2-1) returns to the field on Wednesday, Sept. 11 when the Kingsmen travel to Chapman for their first road contest of the season with kickoff set for 4:00 p.m.
Box Score: CLU 4, GFU 0
CLU Twitter: https://twitter.com/clusports
CLU Facebook: https://www.facebook.com/clusports