Regals Cruise on Day Two of Cal Lu Fornia Inivitational; Finish Weekend 4-0
CLU defeats Linfield, Texas-Lutheran, remains unbeaten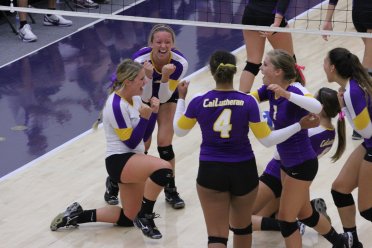 THOUSAND OAKS, Calif. – Another day, another sweep for the No. 10 Cal Lutheran volleyball team. After going 2-0 during the first day of the Cal Lu Fornia Invitational, the Regals continued their dominance on Saturday, defeating both Linfield (Ore.) 3-0 (25-13, 25-17, 25-21) and Texas Lutheran 3-0 (25-14, 25-20, 25-11) in the night-cap. Cal Lutheran limited Linfield to a .096 attacking percentage and then used 10 service aces to cruise past Texas Lutheran.

The Regals got off to a fast start on day two as they climbed out to a 12-3 lead thanks to back-to-back service aces from Jackie Russell. CLU would increase its lead to as much as 17-6 before closing out the set with two Lauren Rohach kills, taking game one 25-13.
Linfield would show some fight in the second set leading 14-13 in the initial stages. The Regals responded with Caitlin Fransen tying the game on a left-handed cross-court kill and Allie Eason putting CLU out in front for good with a kill. On the next point, Cal Lutheran captured the momentum thanks to two tremendous digs from Pua Mo'okini-Oliveira and Kennedy Peters that eventually led to a thunderous kill from Kylie McLogan. The Regals would close out the set with back-to-back blocks from Mo'okini-Oliveira and Rohach and earn a 25-17 second game win.
Game three saw the teams go neck and neck until CLU took a 6-5 lead when Russell put on a defensive display during a long rally. The setter initially had a diving dig to begin the set and then while still on the ground, made another lunging dig, eventually finding Mo'okini-Oliveira for a kill that completed the highlight point.
Linfield would battle back however, benefitting from a pair of CLU hitting errors and was able to knot the score at 18-18.
The Regals responded with a big attack from McLogan that a Linfield defender was unable to handle and then a service ace from Eason got CLU to game-point. On the following point, middle blocker Hayley Tamagni found the hardwood on a kill for the winning point and secured the 25-21 third set win.
McLogan and Rohach each had 10 kills while Russell dished out 32 assists to lead the Regals offensively.
The Regals totaled 59 digs as team while holding the Wildcats to just 25 kills in three sets.
Linfield (4-2) was led by Kailana Ritte-Camara who tallied nine kills in the loss.
The second match of the day against saw Cal Lutheran take on Texas Lutheran. The Regals pounded out 13 kills in the first set while Russell had three service aces including the set-winner as CLU was victorious 25-14.
Russell picked up right where she left off, connecting on three-straight service aces to open the second set. The Regals would stretch their lead to as much as 18-12 but Texas Lutheran rallied back to within three at 20-17 due in part to three CLU attacking errors.
Cal Lutheran would dig deep as Tamagni came up with an ace and two blocks to close out the second set at 25-20.
The Regals would save their best for last in the third set. CLU cruised to a 25-11 victory but not before hitting a game best .323 attacking percentage including 12 kills and the first collegiate point for freshman Monica Lundgren when she smashed home a ball to get to set-point. The CLU defense shine in its own right, limiting the Texas Lutheran offense to eight kills and nine errors on 41 attacks in the final set.
Russell led the Regals with 27 assists and six service aces. McLogan had 12 kills while Rohach chipped in with seven.
Defensively, Peters led CLU with 12 digs and Russell was second with 11.
For the tournament, Russell, an All-American setter, had 150 total assists, averaging 11.5 per set.
Texas Lutheran (5-2) suffered just its second loss of the season and was led by Vanecia Spencer who had nine kills. Setter Manda Martin had 20 assists while Megan Lee had 10 digs defensively.
Cal Lutheran (6-0) now has a quick turnaround as the Regals travel to Santa Barbara, Calif. on Tuesday, Sept. 10 to take on NAIA power Westmont. The match is set to get underway at 7:00pm.
Box Score: CLU 3, LC 0
Box Score: CLU 3, TLU 0
Tournament Central: Cal Lu Fornia Invitational
CLU Twitter: https://twitter.com/clusports
Follow Kylie: @k_mclogan and Pua: @puamookini
CLU Facebook: https://www.facebook.com/clusports