Kingsmen Begin Season in San Diego
CLU drops two to Division I opponents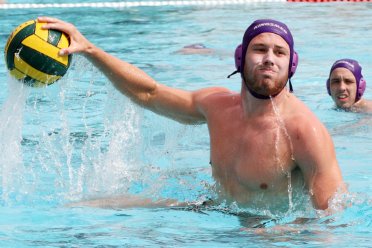 SAN DIEGO, Calif. – Cal Lutheran opened their 2013 campaign against a pair of tough Division I opponents, falling to Loyola Marymount, 21-8, and Long Beach State University, 10-4, on day one of the UCSD Invitational.
All 20 players who traveled this weekend saw action in both games with a dozen players making his CLU debut including Mike Arteaga, Zack Card, Eric Donahoo, Jake Gallagher, Zach Graper, Camron Hauer, Cameron Knudsen, Zach Loza, Taylor McMaster, Jesse Owen, Asante Sefa-Boakye and David Sparks.
Leading the offense for the Kingsmen in the two games today were Max Zappas and Hunter Hamaker. Zappas provided three goals and five drawn ejections while Hamaker finished with a pair of goals and four drawn ejections. Spencer McGrath also recorded a hat-trick on the day while Card, Donahoo and Gallagher netted the first goal of his respective career as well. Gallagher added an assist against LMU.
Defensively, Craig, Knudsen and Potter had two steals apiece. Owen got the start in front of the cage for both games, playing a total of six quarters as he tallied eight total saves with a pair of steals. Freshman Loza played two quarters, recording three saves as the CLU goalie.
Though the team was defeated twice, the performance was a positive one.
"We have a really solid group of guys and the team played well for our first tournament," Hamaker shared after the completion of competition today. "Our defense started off a bit rocky, but by the second game we got into a rhythm and our defense was working great."
Hopefully that tempo will carry over to Sunday when the Kingsmen face off with another pair of Division I programs.
Cal Lutheran (0-2) begins the day against host UCSD at 8:30 a.m. and wraps up opening weekend at 1:00 p.m. against UCLA.
Results: LMU 21, CLU 8
Results: LBSU 10, CLU 4
CLU Twitter: https://twitter.com/clusports
Facebook: www.facebook.com/clusports