Regals Run to Third Place Finish at UCI
Cal Lutheran opens season strong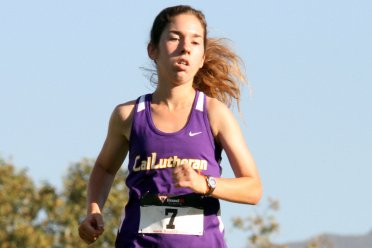 IRVINE, Calif. – It was a fast start to the 2013 season for the Cal Lutheran women's cross country team who joined forces to run to a third place finish at the ASICS/UCI Invitational this morning at ARC Field.
Despite a bright sunny, hot morning on a slightly hilly, slow course, today was a perfect opener for the Regals who defeated Division I host UC Irvine and Division II Cal State San Bernardino in a field of 14 teams.
"We have been waiting since May to show everyone what we are capable of," junior Amanda Miller shared after the race. "I think we definitely did a good job of that today. We competed really well and I am so proud of everyone," she concluded after finishing sixth for CLU in 19:56.7, which was 18 seconds faster than a year ago.
Four of the five runners who competed in the meet last year dropped time this morning with Taelor Young shaving an incredible 32 seconds off her 5K time from 2012 at ARC Fields. In the season opener she crossed the line in 19:46.4 to earn the final scoring position for the Regals.
Others who showed improvements from last year were Natalie Bullock (19:24.9) and Chantal White (20:44.5), dropping 25 and 14 seconds, respectively. Bullock finished third in her final opening day for Cal Lutheran and overall was 22nd out of 134.
Leading the pack as she did throughout the 2012 season was senior Melissa Skiba who finished second overall in a time of 18:17.2. The second Regals harrier to finish, in 11th place, was senior Ashley Frese (19:03.4) who missed this meet last year as she was studying abroad in Barcelona, Spain.
"This was a whole new experience for me after not competing for two years," she went on, "And to begin the cross country season well after a great track season was important."
Newcomer Sarah Parsons scored for Cal Lutheran for the first time in her collegiate career by running a 19:37.3 5K. The rest of the freshman class ran together as Kaela Lichstein (24:13.9), Kelsey Lewis (24:43.4) and Lauren Chrislu (25:51.2) each made her Regals debut.
The returning group of Jessica Infald (20:32.7), Amy Falahat (23:53.0) and Kathi Kirkeby (24:06.1) rounded out the Regals runners.
Taking home the team title was San Diego State University with The Master's College placing second as a unit. The top individual finisher was senior Hannah Kellerman (17:51.4) from TMC.
"Today was a great experience for our team to realize our potential in making it to Nationals," Frese said.
Cal Lutheran will be back in action on Saturday, Sept. 21 when the Regals travel to the Mustang Challenge in Santa Clarita, Calif. hosted by The Master's College. Runners will toe the line at 8:15 a.m.
Results: CLU – 3rd
CLU Twitter: https://twitter.com/clusports
CLU Facebook: https://www.facebook.com/clusports