Cal Lutheran to Host 15-Team Tournament
Volleyball welcomes 14 teams to Thousand Oaks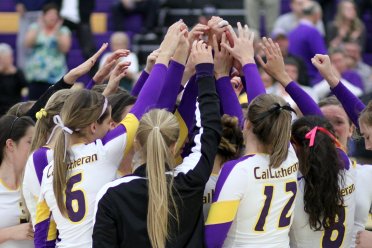 THOUSAND OAKS, Calif. – Both the Gilbert Arena and Soiland Recreation Center will be buzzing this weekend as the No. 10 Cal Lutheran volleyball team hosts the Sixth Annual Cal Lu Fornia Invitational. The 2013 edition features 15-teams with 30 matches scheduled during the two-day event.
As one of the largest tournaments in the country at the Division III level, CLU is pleased to welcome teams from locally in Southern California as well as Northern California, Arkansas, Oregon, Texas and Washington.
Matches begin on Friday at 12:30 p.m. at both venues. A full schedule and results will be available here.
Cal Lutheran (2-0) plays UT-Dallas at 3:00 p.m. and No. 9 Puget Sound at 7:00 p.m. in a rematch of the 2012 West Regional final. All CLU matches will take place on court one in the Gilbert Arena.
Tournament Central: Cal Lu Fornia Invitational
CLU Twitter: https://twitter.com/clusports
Follow Kylie: @k_mclogan and Pua: @puamookini
CLU Facebook: https://www.facebook.com/clusports