Kingsmen Football to Host Fan Day
Come out and meet the CLU players and staff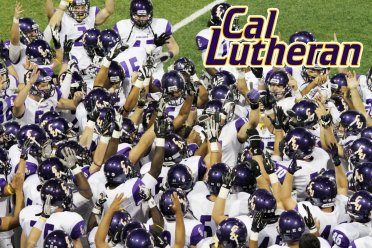 THOUSAND OAKS, Calif. – The No. 18 Cal Lutheran football team will host the first-ever Fan Day on Sunday, August 25. The Kingsmen encourage fans of all ages to attend the event and enjoy a mix-and-mingle with the players and coaches at the conclusion of the session.
Practice is set to take place from 3:00 p.m. to 5:00 p.m. at the North Field, which is located on Campus Drive behind William Rolland Stadium and the Gilbert Sports and Fitness Center on Cal Lutheran's North Campus.
Directly following practice for 30 minutes both players and coaches will be available not only to meet and chat with fans, but to play catch with the children in attendance.
Cal Lutheran opens the football season by hosting No. 13 Pacific Lutheran on Saturday, Sept. 14 at William Rolland Stadium. Kickoff is slated for 12:00 pm.
Schedule: 2013 Football
Facebook: https://www.facebook.com/clusports
Twitter: @CLUCoachMac
Tumblr: http://clufootball.tumblr.com