Volleyball Begins Ranked No. 10
CLU among top teams in nation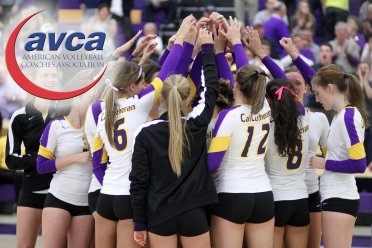 LEXINGTON, Ky. – The 2013 American Volleyball Coaches Association (AVCA) Preseason Poll ranked Cal Lutheran No. 10 entering the fall of 2013 as announced today by the organization.
Cal Lutheran currently has four ranked opponents on their schedule with another pair receiving votes in the preseason poll. Three of those teams are currently among the Top-10, with No. 5-T Christopher Newport, No. 8 Emory and No. 9 Puget Sound all on the docket for the first two weeks of the season.
Joining CLU in the AVCA Top-25 from the Southern California Intercollegiate Athletic Conference (SCIAC) is rival No. 18 Chapman. La Verne garnered votes and Cal Lutheran is scheduled to face Southwestern (Tex.) who received votes as well.
The Regals concluded their 2012 campaign in the championship match of the NCAA Division III West Regionals, hosted by Cal Lutheran, to finish with a 29-5 overall record. CLU produced a 13-1 league mark to be crowned SCIAC champions for the third consecutive season, giving the program nine titles since joining the NCAA in 1991.
Returning to the court in 2013 is a pair of two-time AVCA All-Americans in Kylie McLogan and Jackie Russell. Each was named the SCIAC Player of the Year once with McLogan earning the honor in 2012 and Russell garnering recognition in 2011.
Also back for another season is Allie Eason, the 2012 SCIAC Freshman of the Year, an honor that Russell took home in 2009.
Last year CLU was ranked as high as No. 6 and finished the season as the No. 10 team in the country. The highest AVCA rankings in school history came in both 1995 and 1996 when the Regals earned the No. 3 slot.
Cal Lutheran gets started on Friday, Aug. 30 with a pair of games at the Pacific Coast Classic. The Regals begin play against Whitworth at 12:00 p.m. and follow with a match against Benedictine at 4:30 p.m. The CLU home opener will be in conjunction with the Sixth Annual Posada Royale Cal Lu Fornia Invitational Sept. 6-7.
Poll: AVCA Preseason Poll
Division III Preview: AVCA Preview
Facebook: https://www.facebook.com/clusports