CLU Tagged Top Hitting Team in Nation
CLU atop three categories in 2013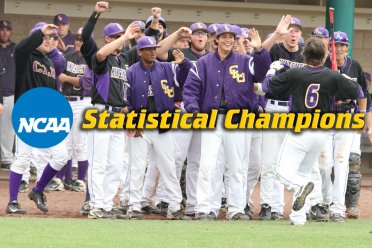 INDIANAPOLIS, Ind. –Announced recently by the NCAA, the 2013 Cal Lutheran baseball team was crowned the Division III statistical champion in both Batting Average and Runs per Game during the spring, while also leading all teams in the country for On Base Percentage.
The Kingsmen combined to hit at a.354 clip with 568 hits, which ranked them fifth in the country. Cal Lutheran went on to produce 402 runs in 45 games for 8.9 Runs per Game to lead all teams across the US at the Division III level.
Overall the Kingsmen were third in doubles (117) and triples (26) and fifth in Slugging Percentage (.495) as a team during the 2013 season.
That production came from hard work by every member of the team. No player who started in 20 or more games batted under .300 with a pair of players over .400.
"The 2013 team had a great work ethic throughout the entire academic year," head coach Marty Slimak shared. "They spent extra time in the batting cages and on the field with our coaching staff."
Individually, Nick Boggan was second in the nation in both homeruns (13) and RBIs (67) while ranking third in total bases (132). Junior Jake Petersen led Cal Lutheran with a .444 average that ranked him 10th among Division III players. Boggan finished his career with a .412 average and Nicho DellaValle was third on the team after batting .384 as a junior.
On the bases, Petersen also led the team with 57 runs scored to place 13th in the country. DellaValle was second with 48 runs while Trevor Koons and Boggan were third and fourth, respectively, with 43 and 41 for the Violet and Gold.
Additionally, CLU players cumulatively gathered a .430 On Base Percentage to pace all squads.
Cal Lutheran finished the 2013 season with a 35-9-1 overall record with a 24-4 SCIAC showing to earn the 10th league title in school history. CLU also won the inaugural SCIAC Baseball Post Season Tournament to earn an Automatic Qualification into the NCAA Division III Playoffs. The Kingsmen advanced to the West Regionals for the 12th time.
NCAA: Baseball Statistics
Facebook: https://www.facebook.com/clusports