Regals Named AVCA Academic Team
CLU among 93 Division III schools honored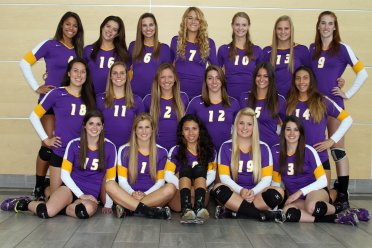 LEXINGTON, Ky. – Announced today by the American Volleyball Coaches Association (AVCA), Cal Lutheran was among the record 622 teams that garnered the AVCA Team Academic Award for the 2012-2013 season.
To earn the award, a team must maintain a cumulative GPA of 3.30 of higher on a 4.0 scale. The induction of this recognition began in the 1992-93 academic year and has honored collegiate and high school volleyball teams displaying distinction in the classroom ever since.
"Excellence doesn't happen by accident, either on the court or in the classroom," said AVCA Executive Director Kathy DeBoer. "It takes consistent preparation, relentless effort, and determined leadership. A full year of academic achievement, by an entire team of individual students, is a remarkable achievement. What better way to start a new season than with a celebration of an award so emblematic of all that is necessary for sustained success."
Over 1,000 different schools have earned the award in the 20-year history of the program, with exactly 5,450 awards been given out in total. The 2012-13 number breaks last year's total of 536 and sets a new all-time high for this award.
CLU was part of a record setting year for Division III as one of 93 honored institutions.
Cal Lutheran graduated four Regals after producing a 29-5 overall record with a 15-1 SCIAC mark to place first for the third consecutive season. The Violet and Gold advanced to the Regional Championship match.
Release: AVCA Academic Team
Facebook: https://www.facebook.com/clusports