Ten Regals Earn All-Academic Awards
Women's water polo earns team recognition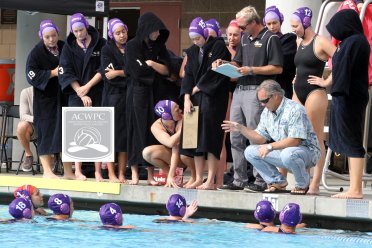 BRIDGEPORT, Pa. – Announced last week by the Collegiate Water Polo Coaches Association (CWPCA), the Cal Lutheran women's water polo team and 10 members were honored with All-Academic Awards in 2013.
As a team, CLU players ranked 21st nationally with an average GPA of 3.19 after going 13-15 with a 7-4 Southern California Intercollegiate Athletic Conference (SCIAC) record.
Leading the pack both in the pool and in the classroom was Adrienne Ingalla who produced the only Outstanding recognition, which encompasses student-athletes earning between a 4.00-3.71 GPA. Ingalla, an exercise science major, was the team leader with both 69 steals and nine field blocks while ranking second in scoring with 37 goals. She is now a two-time CWPCA All-Academic Award recipient.
A trio of freshman student-athletes earned Superior status after holding a GPA between 3.70-3.41. Morgan Cook, Bailey Likewise and Gina Merry each got her first taste of collegiate water polo this year. Cook appeared in seven games scoring twice and Likewise dove in nine times, scoring once. Merry played in 13 games with three starts as a goalie. She recorded 66 blocks for CLU as a freshman. Both Cook and Merry are majoring in psychology and Likewise is a biology major.
Six Regals qualified in the Excellent category, boasting a GPA between 3.40-3.20. Kaylee Kastrup, Illissa Mestas and Lauren Ray all became two-time recipients in 2013 and first time honorees included sophomore Kehau Ai and freshmen Amanda Jones and Tatiana McCuaig.
Kastrup is an exercise science major who started 27 of 28 games in which she appeared and was second on the team with 49 steals, adding six field blocks for the Regals this spring. A marketing communications major, Mestas, handed out seven assists with two goals as a sophomore. Playing in 24 games, Ray, an undeclared major, drew six ejections and scored twice.
During her second season at CLU, Ai started in all 28 games, producing results at both ends of the pool with 29 drawn ejections, 23 assists, 44 steals and seven field blocks. She has not yet declared a major. Jones, a biology major, also appeared in all 28 games and contributed with 18 assists, 17 steals and 13 goals. In her first season, McCuaig, an exercise science major, played in 26 games, grabbing 12 steals, with seven assists and five goals.
Release: 2013 CWPCA All-Academic Teams
Facebook: https://www.facebook.com/clusports