Valenzuela Earns CrossFit Silver
CLU graduate crowned second fittest woman worldwide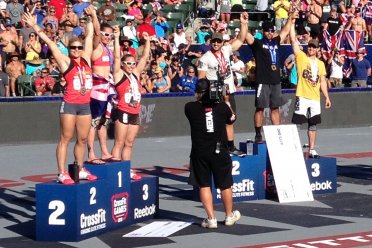 CARSON, Calif. – She entered the 2013 Reebok CrossFit World Games ranked among the Top-5 fittest women in the world. On Sunday Lindsey (Benson '09) Valenzuela claimed a silver medal by climbing up three spots during the four-day, 11-event competition at the Home Depot Center.
The event opened on Wednesday in the pool and moved to Row 1 and Row 2 in the afternoon. Following a day of rest, the athletes were back at it Friday to compete in the Burden Run, Zigzag Sprints and Legless. Saturday, competitors took part in Naughty Nancy, Clean & Jerk Ladder and 2007. The weekend concluded with the Sprint Chipper followed by the Cinco 1 and Cinco 2.
The 5-foot-6, 154-pound Valenzuela finished Top-10 in six events with her best performance of the competition coming in the Clean and Jerk where she placed second in the field of 48. She tied for fourth in the final event, the Cinco 2 and was fifth in in the Row 2, after hitting the Row 1 marker in 12th place.
Her constant focus and commitment to giving it her all as well as getting behind her motto "Believe" was proven this weekend before a packed house that included many family members and friends.
In a competition that featured athletes from around the world, Valenzuela shared the podium with training mate Valerie Voboril as the duo tallied 821 and 818 points, respectively, for second and third. European Samantha Briggs (920) earned the 2013 title.
Athlete Profile: Lindsey Valenzuela
2013 CrossFit Games: Main Website
2013 CrossFit Games: Leaderboard
Facebook: https://www.facebook.com/clusports