NCAA Woman of the Year Candidate
CLU graduate to represent CLU, SCIAC at national level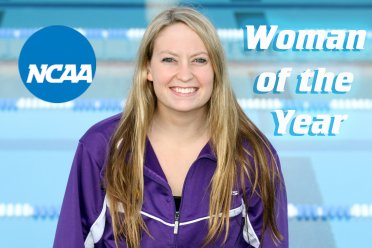 PASADENA, Calif. –Each year conference offices across the country at all NCAA levels nominate worthy candidates for the NCAA Woman of the Year award. In 2012-13 there were two SCIAC standout senior student-athletes meeting the criteria and Cal Lutheran graduate Cortney Jordan is one of them.
The NCAA Woman of the Year award honors outstanding female student-athletes who have excelled in academics, athletics, leadership and community service.
Jordan recently represented Cal Lutheran as a Southern California Intercollegiate Athletic Conference (SCIAC) Female Scholar Athlete of the Year.
A four-year letter winner for the Regals, Jordan extended her competition pool beyond the collegiate realm to international waters as part of two US Paralympic swimming team, serving as a captain in 2012.
Jordan, a Liberal Studies major, was not only a collegiate athlete while at Cal Lutheran, but she is a two-time Paralympian after competing in Beijing (2008) and London (2012) and is an S7 American Record Holder in 17 events, 11 of which were set while swimming for the Regals.
Never thinking she would be able to participate in swimming at the college level, Jordan, born with cerebral palsy, described her student-athlete experience as "an honor to have been a member of the swim team."
Not only was she a member, but she was voted as a team captain and made some of her best friends as part of the program. Jordan expanded her involvement at CLU beyond the pool. She was a Student Director at the Writing Center, a member of numerous clubs, including the triathlon club, Club Teach, MyLife, Phi Alpha Theta, History Club and has volunteered much time to working in the local elementary schools and coaching young swimmers.
Immediately following graduation, Jordan relocated to Colorado Springs, where she is training at the US Olympic Training Center for the Paralympic World Championships in Canada this summer. She has also signed on as a US Paralympic ambassador for the US Olympic Committee with the main goal of spreading awareness of the opportunities for disabled athletes. Once her professional career comes to a close, Jordan aspires to become a teacher.
Jordan is joined on the ballot by Pomona-Pitzer's Jordan Bryant, a four-year women's soccer letter winner for the Sagehens.
In late August the top 30 (10 from each NCAA division) will be announced as national honorees. The 2013 NCAA Woman of the Year will be announced on Sunday, Oct. 20 in Indianapolis, Ind. as part of an awards dinner.
SCIAC Release: NCAA Woman of the Year
SCIAC Scholar Athletes: 2013 SCIAC Scholar Athletes
Facebook: https://www.facebook.com/clusports