Cal Lutheran Finishes 43rd in Learfield Sports Directors' Cup Standings
CLU jumps in rank from 20111-12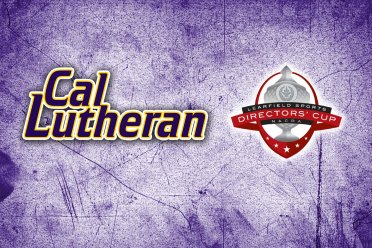 CLEVELAND, Ohio – At the conclusion of each academic and athletic year the school with the most combined championships points in Division III is honored with the Learfield Sports Directors' Cup. In 2012-13 Cal Lutheran climbed in the standings from 51st a year ago to 43rd out of 328 schools nationwide this year.
Cal Lutheran earned a combined 354.50 points between the 20 sponsored intercollegiate Kingsmen and Regals teams. During the fall, CLU tallied 139 points, adding 25 in the winter, before finishing out the spring with 190.5.
The Learfield Sports Directors' Cup was developed as a joint effort between the National Association of Collegiate Directors of Athletics (NACDA) and USA Today. Points are awarded based on each institution's finish in up to 18 sports - nine women's and nine men's.
This year Cal Lutheran sent athletes from 10 teams to NCAA Postseason play. After the fall semester, CLU was ranked 37th, up two spots from last year. Volleyball, football and women's soccer all earned points for Cal Lutheran. In the winter, the Kingsmen and Regals dropped to 70th, though the women's basketball team advanced to the NCAA Playoffs. The spring was the most statistically successful season with baseball, men's golf, men's tennis and women's track & field earning points to propel CLU back to the top-43.
For the second consecutive year, CLU was the third highest Southern California Intercollegiate Athletic Conference (SCIAC) school recognized behind 13th Claremont-Mudd-Scripps (677 points) and 32nd Redlands (443 points).
Williams (Mass.) dethroned Middlebury (Vt.) and reclaimed the top honor by accumulating 1273.75 total points, which was 287.25 points more than second place Emory (Ga.). Middlebury finished third as the only other school to surpass the 900-point plateau with 941.75. Williams has won 16 of 18 Directors' Cup titles.
This year marks the 18th year of the Directors' Cup. For a complete listing, click here.
2012-13 Learfield Directors' Cup: Final Standings
Facebook: https://www.facebook.com/clusports