CLU Honored With U.S. Olympic Achievement Award at NACDA Convention
Cal Lutheran recognized at NACDA convention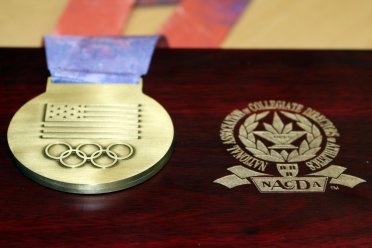 ORLANDO, Fl. – At the National Association of Collegiate Directors of Athletics (NACDA) Convention in June 2013, the United States Olympic Committee, its National Governing Bodies and NACDA, joined together to present the U.S. Olympic Achievement Award (USOAA). Cal Lutheran was one of 41 institutions presented an honorary medal in conjunction with the Learfield Sports Directors' Cup luncheon.
Sports Information Director, Tracy Maple, was on site in Orlando to receive the award on behalf of Cal Lutheran.
The award recognizes colleges and universities with student-athletes and coaches who contributed to Team USA's medal count during the 2012 Olympic and Paralympic Games. The USOAA is presented every two years following the Olympic and Paralympic Games.
"Collegiate athletics sustain development pipelines and help prepare athletes for progression to elite NGB programs," said USOC CEO Scott Blackmun. "These awards acknowledge this crucial partnership, which is fundamental to shaping the future of Olympic and Paralympic Movements in the United States."
All honorees either had a current student-athlete who was part of a medal-winning performance or a coach who was an official member of the U.S. Olympic or Paralympic delegations and led his or her athlete or team to a medal. Overall, 37 coaches representing 31 institutions helped Team USA produce medals in nine sports and 30 U.S. athletes from 19 collegiate programs garnered 36 medals in London last summer.
"Having a student-athlete or coach compete in the Olympic and Paralympic Games is an honor for both the individual and an institution," said Kevin Anderson, president of NACDA and director of athletics at the University of Maryland. "It is important that our colleges and universities continue to be a platform for our student-athletes and coaches to strive to compete at the highest level. Recognizing these achievements at the NACDA Convention allows for not only our association, but also the USOC, to honor these institutions for supporting the U.S. Olympic and Paralympic Movements."
Cortney Jordan represented Cal Lutheran at the 2008 and 2012 Paralympic Games in Beijing and London, respectively, where the swimmer came home with eight combined medals, four from each Games. In 2012, Jordan earned three silvers and a bronze for Team USA as a captain.
Official Release: U.S. Olympic Achievement Awards
Honorees: Complete List
Facebook: https://www.facebook.com/clusports