CLU Athletes of the Year Announced
Ballou, Pearson, Rogers honored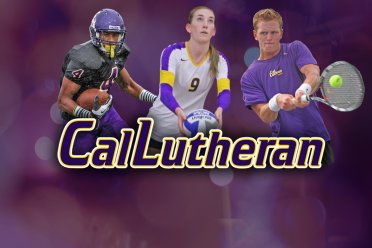 THOUSAND OAKS, Calif. – Each year Cal Lutheran athletics honors senior Athletes of the Year. In 2012-13 there were three standout performers with Male co-Athlete of the Year accolades presented to Nicholas Ballou and Eric Rogers while Shannon Pearson took home the Female Athlete of the Year award.
Inside the Lundring Events Center on Monday, May 13 all student-athletes were recognized during a reception to celebrate their successes during the academic year. Run by the Student Athlete Advisory Committee, SAAC chair Debby Day presented the aforementioned trio with plaques to represent the accomplishments of those AOY recipients.
Ballou became a five-time career All-American in late May after earning the honor for both singles and doubles play at the 2013 NCAA Division III Men's Tennis Individual Championships. He played in the Round of 16 singles and with teammate Ray Worley advanced to the Semifinals of doubles play after earning a No. 1 ranking in both events. Ballou was a two-time SCIAC Player of the Year, winning in both 2013 and 2012. This spring he won the individual title at the Ojai Tournament before teaming up with Worley for a doubles championship as well. Ballou led the Kingsmen to a No. 4 national ranking during his senior year. Overall as a senior he was undefeated during the regular season.
Earlier in his career he was an ITA All-American in the fall of 2011 after winning an early season tournament. He was sidelined in the spring following an injury that required two back surgeries. Ballou returned to the courts in 2012 as a junior and was the national runner-up in singles action and West Region champion, finishing the season ranked No. 2 in the country. During his first year at CLU in 2010 he was a First Team All-SCIAC and advanced to the NCAA Championships for both singles and doubles play.
On the football field during the fall of 2012 Rogers re-wrote the CLU record books. He became the single-season leader in receptions (91), touchdowns (18) and total scoring (126). Rogers was voted a D3Football.com First Team All-America and D3Football.com First Team All-West Region after being named the SCIAC Offensive Player of the Year.
In late April Rogers signed a Priority Free Agent contract with the Dallas Cowboys of the National Football League (NFL). Overall in his career he is a two-time First Team All-SCIAC and 2009 Second Team All-SCIAC selection who also accumulated four CLU records with 3,461 receiving yards, 41 receiving touchdowns, 220 receptions and 270 points. Additionally, Rogers was a stellar track and field athlete, earning All-SCIAC in the Long Jump and Triple Jump and was a two-time Division III All-American Triple Jumper by placing third in the nation in 2011 and 2012. He currently holds the CLU TJ record with a mark of 15.15m.
Pearson led the Regals volleyball team to the West Region championship game in 2012. She was selected as an American Volleyball Coaches Association (AVCA) Third Team All-American after earning First Team All-West Region and First Team All-SCIAC honors. Pearson finished her senior campaign with 2.50 kills and .74 blocks per set for the Regals. She tallied 292 total kills, 34 assists, 39 service aces and 15 solo blocks with 71 block assists.
Overall in her career, Pearson is a two-time All-American, earning Honorable Mention in 2011 after being named both AVCA First Team West Region and First Team All-SCIAC accolades during her first season with the Regals.
Each spring Cal Lutheran honors the most successful senior student-athletes from that respective year.
Facebook: https://www.facebook.com/clusports