D3Baseball.com All-Americans Announced
Kingsmen garner national recognition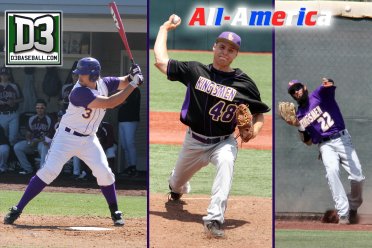 MINNEAPOLIS, Minn. –Just days after the D3baseball.com All-West Region teams were announced, a trio of Cal Lutheran baseball players added All-America accolades to his repertoire in 2013.
Selected from those players earning Regional recognition, a First, Second, Third and Honorable Mention team were chosen with Nick Boggan, Jake Petersen and Aaron Roth each getting the nod. All three were named to the First Team All-West Region.
After a standout year, first baseman Boggan capped off his collegiate career as a D3baseball.com First Team All-American. The senior hit .412 with 73 hits, including 16 doubles, two triples and 13 homeruns. He drove in 67 RBIs, stole five bases and scored 41 times for the Violet and Gold. Defensively he posted a .995 fielding percentage.
Landing on the D3baseball.com Third Team All-America was junior righty Roth who appeared in 29 games, a single-season record at Cal Lutheran. Roth (6-1) finished with 12 saves and a 1.18 ERA. He logged 68.2 innings, striking out 73 batters and walking just five. His opponents hit just .200 against the Kingsmen closer.
A stellar inaugural season at Cal Lutheran saw Petersen, a junior southpaw and leadoff batter, earn D3baseball.com All-America Honorable Mention utility status. In 14 starts on the hill he produced a 7-2 record, dropping a heartbreaking 1-0 decision, on an unearned run, in the opening round of the NCAA Division III West Regionals. Petersen threw 91.2 innings, striking out 73 while earning a 3.04 ERA. Offensively, he led the Kingsmen with a .444 average, which is a school record for a single-season. He connected for 71 hits with 17 doubles, four triples and a homerun to drive in 39 RBIs. Petersen swiped nine bags and came in to score 57 times for CLU. Additionally, while not pitching he roamed the outfield and overall produced a .970 fielding percentage.
The 2013 Player of the Year, Tucker White from Southern Maine, and Pitcher of the Year, Chris Haddeland from Linfield, led their respective teams to berths at the Division III College World Series this week. Earning Rookie of the Year honors was Hayden Tsutsui from Carleton. The Coach of the Year will be announced following the World Series.
Yet to be announced for 2013 are the American Baseball Coaches Association(ABCA)/Rawlings Division III All-American and Gold Glove teams that should be released later this week in conjunction with the World Series.
Release: 2013 All-America Teams
Facebook: https://www.facebook.com/clusports