Individual Tennis Brackets Released
Kingsmen to continue play May 23-25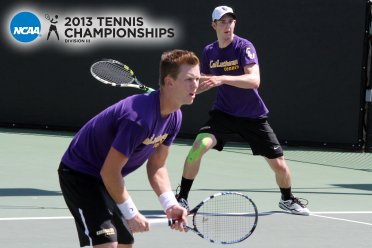 KALAMAZOO, Mich. –Entering the NCAA Division III Men's Tennis Individual and Doubles Championships hosted by Kalamazoo College, Nicholas Ballou is ranked No. 1 in the nation both in singles and with teammate Ray Worley in doubles.
Two weeks ago the field was set for the NCAA Division III Men's Tennis Individual and Doubles Championships to be played at the conclusion of the team competition, from May 23-25, at Kalamazoo's Stowe Stadium and Western Michigan University's Sorensen Courts and today the brackets were released.
In the Round of 32 Ballou opens against Amrik Donkena from Gustavus Adolphus. Worley is set to face off with Kevin Caulfield from Haverford in his first match. Neither Kingsmen player has competed against his scheduled opponent this year. First serve of both matches is set for Thursday, May 23 at 7:00 a.m. (PST). The winning players advance to the Round of 16 scheduled for 10:30 a.m. (PST) at Stowe.
The afternoon will feature the No. 1 duo serving up to Matthew Heinrich and Chris Rosensteel, a freshman, senior team from Stevens Institute of Technology (N.J). Play will get under way at 1:00 p.m. (PST) in the doubles Round of 16. Ballou and Worley are 24-2 this season and Heinrich and Rosensteel are 21-3.
Competition continues on Friday, May 24 with the singles and doubles Quarterfinals and the individual Semifinals. Play gets underway at 6:00 a.m. (PST) with Quarterfinals singles action followed by Semifinals at 11:00 a.m. (PST). Doubles Quarterfinals will take place at 1:00 p.m. (PST).
Championship matches for singles are scheduled for Saturday, May 25 at 6:00 a.m. (PST) with award presentations immediately after a decision is made.
Doubles Semifinal and Finals will take place on Saturday at 8:00 a.m. (PST) and 10:00 a.m. (PST), respectively with a doubles championship team crowned in an awards presentation immediately following to conclusion of play.
Ballou and Worley have an opportunity to repeat as All-Americans after advancing to the Quarterfinals a year ago. The pair would become the second NCAA Division III Men's Tennis Doubles Champions if they can maintain their No. 1 seed throughout the week and win the title joining Mark Ellis and Jenia Karminov who won in 1997.
In singles play, Ballou has the chance to become the second NCAA Division III Singles champion in school history, following Ellis, the 1996 champion.
Kalamazoo last hosted an NCAA Division III National Championship tournament in 2005 for the women and in 2000 for the men. Overall, KC has hosted 12 national championships (women-7, men-5).
Bracket: 2013 NCAA Division III Men's Tennis Singles Bracket
Bracket: 2013 NCAA Division III Men's Tennis Doubles Bracket
Website: NCAA Division III Men's Tennis Championships
Schedule: Detailed Schedule of Events
Video: NCAA Video Streaming Site
Live Results: Live Results
Facebook: https://www.facebook.com/clusports