Student-Athletes Honored at Scholar Athlete Society Induction
CLU recognized 145 student-athletes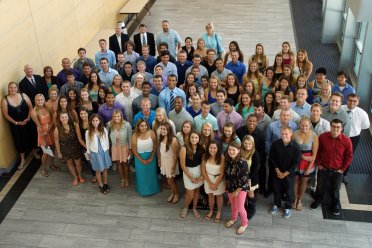 THOUSAND OAKS, Calif. – Ten days ago the Cal Lutheran Scholar-Athlete Society inducted a class of 145 student-athletes during a reception held in the Gilbert Arena.
In 2003, Elaine Benditson inspired the concept and the Cal Lutheran Scholar-Athlete Society was created to acknowledge the academic achievements of CLU athletes. The institution believes it is important to give special emphasis to those students who are competing rigorously to achieve excellence in the classroom and in their chosen sport. The Kingsmen and Regals honored during the ceremony have each proven to bring equal dedication and discipline to both the classroom and chosen fields of play.
Boasting a 3.40 or higher cumulative grade point average during the academic year, the 2013 induction class was the largest in the 10-year history of the society. The inaugural class had 36 inductees.
Of the student-athletes who participated in 2012-13, 62% (307 of 493) earned a cumulative grade point average (GPA) of 3.0 or higher. Nearly 30% (144) produced a 3.5 or higher GPA. The total GPA for all CLU sports teams this year was 3.147. Offering 20 intercollegiate sports, 16 of those teams produced higher team GPAs in 2012-13 than in 2011-12. Additionally, during the fall semester 12 athletes earned a perfect 4.0.
Following the presentation of gifts to those inducted, a pair of distinguished student-athletes was recognized. Senior golfer and bioengineering major Chad Kimmelshue and senior swimmer and liberal studies major Cortney Jordan were selected by the CLU Faculty Athletic Policies Committee as the Male and Female SCIAC Scholar Athlete, respectively.
While Kimmelshue was in Florida competing at the NCAA Division III Men's Golf Championships, Jordan, a two-time Paralympian and S7 American Record Holder in 17 events, took to the podium.
Going on to be an ambassador and speaker for the Paralympics, Jordan stepped up to the microphone where she engulfed the audience with a sincere and strong message. She spoke to four phenomenal points:
The gift of being in the moment.
Passion for what you are doing.
Focusing on teammates and how others will remember you and how you can make others feel good.
Never-Ever giving up!
During her speech she also touched on the notion of cherishing differences, respecting others, assuming responsibility and having no regrets.
Cal Lutheran attracts students from all walks of life and areas of the world. Its diversity is unique and the passion that each and every student possesses is special. For many, one of those passions is sport, in turn producing amazing student-athletes for the Kingsmen and Regals year in and year out.
Scholar Athlete Society: 2013 Induction Class
Facebook: https://www.facebook.com/clusports