Golfers Work at Special Olympics Event
Kingsmen give back to community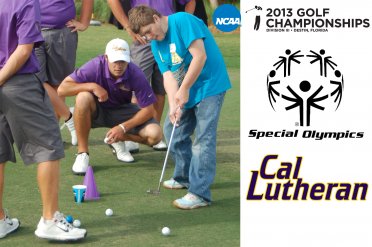 DESTIN, Fl. –Each year at the NCAA Division III Men's Golf National Championships student-athletes take some time to give back by working with Division III partner the Special Olympics.
This year Cal Lutheran was one of 30 teams to participate in a golf clinic, which was an eye opening opportunity for the Kingsmen, some of whom had never participated in a Special Olympics event.
"This was a great experience for our team," head coach Jeff Lindgren shared, "It felt good to be able to give back to the community."
On Sunday, May 12 at the Sandestin Golf and Beach Resort driving range and putting greens 30 teams were paired up with 30 Special Olympians.
The five CLU golfers took turns teaching Erick, a 31-year old Special Olympian, the basics of the game of golf. Besides playing some miniature golf along the way, Erick had never swung a golf club.
After the Kingsmen taught Erick basic golf skills, including grip, stance and set up, the participants took part in a rotation of games and fun contests.
"The event helped our guys keep everything in perspective," Lindgren finished, "And allowed our team to relax and take their mind off the competition for a little while and realize that golf is just a game."
Cal Lutheran was one of 41 teams, five of 210 student-athletes, to compete at the 2013 NCAA Division III Men's Golf Championships. CLU placed 25th, 10 strokes off the advancing score after the opening two rounds.
Facebook: https://www.facebook.com/clusports