Rogers Completes Rookie Mini Camp
CLU graduate gets a taste of the NFL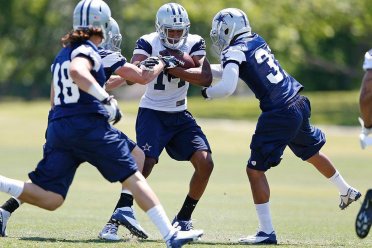 IRVING, Tex. – Two weeks ago Eric Rogers traveled to the training facility of the Dallas Cowboys as one of 42 players to participate in a Rookie Mini Camp that took days two weeks after the National Football League (NFL) Draft.
Rogers, a Priority Free Agent, caught passes and worked with coaches while he got to know his rookie class, which consisted of eight first-year eligible players, seven draft picks and 12 other undrafted free agents. There were also 14 players present for a tryout.
The DallasCowboys.com staff had a chance to see the Duarte, Calif. native in action and they liked what they saw.
Rogers returned to Thousand Oaks late last week to participate in graduation ceremonies on the field he called his football home on Saturday, May 18.
The now CLU graduate has returned to Dallas for more training and an all-team camp. If all goes well, Rogers will return to his roots in Southern California for the Dallas Cowboys summer training camp in Oxnard.
List of Participants: Dallas Cowboys Rookie Mini Camp
Facebook: https://www.facebook.com/clusports