Baseball Bounces Back with Win
CLU escapes elimination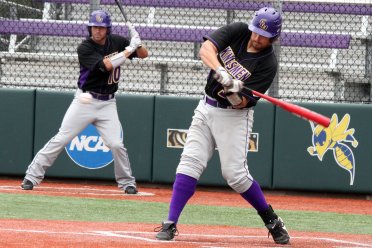 AUSTIN, Tex. –One day after a tough loss in the opening round of the NCAA Division III Baseball Playoffs the Cal Lutheran baseball team bounced back with a 4-3 victory over Texas Lutheran, eliminating the Bulldogs and living to play another day.
The Kingsmen took a 4-0 advantage and staved off a late comeback effort by TLU to advance. Tyler Hebda (9-3)threw a perfect game through four innings and after going 6.2 innings, scattering five hits and walking just one with two strikeouts, was lifted with the lead as he earned the win. Kevin Leonard drove in the ultimate game winning run in the fifth inning on a sacrifice fly that scored Trevor Koons.
As the designated visiting team, Cal Lutheran batted first and though they forced TLU starter Aaron Aleman to throw 21 pitches, drawing a pair of walks, they were unable to put up a crooked number.
An inning later in the top of the second CLU struck first with a pair of runs on a two-RBI double from Jake Petersen. Leonardgot the start in right field and drew a four-pitch leadoff walk. Ramsey Abushahla was hit by a pitch and Spencer DuBois layed down a great sacrifice bunt to move both runners into scoring position for Petersen.
The Kingsmen added to their lead in the top of the third on a 400-foot solo shot to right field from first baseman Nick Boggan. When Leonard followed with a single to right field, Aleman (9-6) was knocked out of the game after just 2.2 innings, being tagged with the loss.
CLU scored their fourth, final and ultimate game-winning run in the top of the fifth. Koonsbattled to a single on the eighth pitch of his at-bat to lead the inning off. Boggan was hit by a pitch and Nick DeLorenzo nearly drew a walk showing bunt. He did eventually get a strike and used the sacrifice to move the runners to second and third. Leonard quickly lifted a sacrifice fly to left field, plating Koons to put CLU on top 4-0. Abushahla was hit by a pitch as well and after DuBois singled to shortstop to load the bases, Dwayne Snyder was pulled from the game after 2.0 innings and Thomas Harwell took over.
In the bottom of the fifth, the Bulldogs found their way onto the scoreboard. Klaus Bohrmann led off with a double to centerfield, but was gunned down at third base by Koons when Derek Kanas hit into a fielder's choice. Kanas stole second and came in to score on a single from Ryan Hill. Zach Jacobs also singled and Mason Briscoe walked to load the bases. A quick visit to the mound by head coach Marty Slimak gave the CLU startera minute to regroup before he forced a ground ball back to the mound for the final out of the frame via a flip to Boggan at first.
Following a 1-2-3 sixth inning by Hebda and a pair of quick ground ball outs to start the bottom of the seventh, TLU punched back-to-back singles, knocking Hebda from the hill. CLU closer Aaron Roth came in from the bullpen, to break the CLU record for single season appearances with 28, and got a fly ball on the second pitch he threw to end the inning.
While CLU was unable to produce in innings 6-8, going nine up, nine down, Texas Lutheran made a late push with a pair of runs in the bottom of the eighth. The Bulldogs collected four straight hits with the final one a two-RBI single to centerfield from Kanas, scoring Jennings Boothe and Christian DeBlanc.
The Kingsmen also set the stage for more offense in the top of the ninth with DellaValle blooping a single to shallow right field with one out to start it. Koons then doubled off the right field fence, three feet short of a homerun, to put a pair in scoring position. TLU opted to intentionally walk Boggan, but a double-play ended the threat.
In the bottom of the ninth, Roth got a 1-2-3 inning with a ground ball to Boggan, a ground ball to Koons at shortstop and a fly ball to centerfield. Despite allowing a pair of runs, Roth earned his 12th save of the spring, as he celebrated his 21st birthday.
Defensively, CLU shined. DellaValle made a great play in the first inning on a ball deep in the hole between third and short and finished with a putout and two assists. Koons came up with a trio of nice plays in the opening two frames and turned in a one putout, seven assist day in the field. Boggan finished with 16 touches at first base.
Koons was the only CLU batter with a multi-hit game as the Kingsmen were held to just seven hits.
Texas Lutheran finished with nine hits as Bohrmann, Hill and Jacobs had two hits apiece. TLU used four pitchers in the game today. The Bulldogs season comes to an end after producing a 33-14 record. They lost 2-0 to Linfield to open the tournament on Wednesday.
Though it was a day late, the Kingsmen had more than just a baseball game to celebrate with a trio of birthdays in the last 48 hours (Koons and Slimak yesterday) and a graduation ceremony following the game.
George Petersen, Dean of the Graduate School of Education at Cal Lutheran, conducted a graduation ceremony for the eight senior baseball players. Dressed in caps and gowns, the Kingsmen conducted a processional through a bat-tunnel created by their teammates to the traditional graduation song. After Petersen spoke and showed a video from CLU President Chris Kimball, Koons made a keynote speech and the players accepted mock diplomas from Petersen with help from James Koons.
Cal Lutheran (35-8-1) will play Texas-Tyler tomorrow at 1:30 p.m. (PST) in another elimination game. Texas-Tyler defeated Pomona-Pitzer 4-3 in 11 innings on Wednesday and lost 4-2 to Trinity (Tex.) today. Live Stats will be available for the game.
Box Score: CLU 4, TLU 3
Regional Website: West Regional Tournament Information
Facebook: https://www.facebook.com/clusports