Kingsmen Close Out Season at NCAAs
CLU improves 14 strokes on day two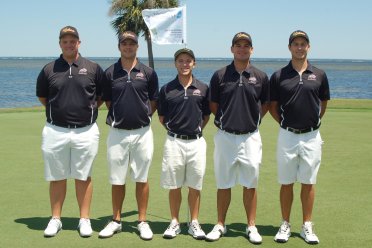 DESTIN, Fla. – After a slow start to the NCAA Division III Golf Championships, the Cal Lutheran men's golf team improved 14 shots during the second round playing at the Raven Course and finished with a combined score of 305 (+30). Unfortunately for the Kingsmen, their two-day score of 624 was 10 strokes behind the cutline.
Mikey McGinn was the top overall golfer, finishing with a two-day score of 153 (+10). McGinn had an ideal start to his second round, birdieing the first three holes and getting to three over par for the tournament. Playing the back nine first, the junior would go to bogey the 14th and 16th to finish with a one-under par 35 heading into the turn. McGinn would go on to close it out with a second round 73.
Parker Colvin was the second leading golfer for the Kingsmen, finishing with a two-day score of 154 (+11). After a triple bogey on the last hole of the first nine, Colvin was even on the back including birdies on the second and fourth holes.
It would have been easy for Bobby Griffin to give up after taking a 12 on the tricky water-hazard filled par four 18th but the sophomore showed true grit on the back nine, piling up four birdies and finishing with a five over par 76. Griffin would have surely finished higher on the leaderboard outside of the 12 on 18, recording seven pars on the first nine.
Barret McGinnis shot 80 for the second consecutive day to finish with a combined score of 160 (+17). McGinnis was even through the first six holes to start the day and recorded birdies on the par-five seventh and par-four 13th.
Chad Kimmelshue improved his first to second round score by 12 shots, firing off a nine over 80 on Wednesday. For the second straight day, Kimmelshue played better as the round went on, registering six pars on the back nine.
Transylvania and Texas-Tyler are currently tied for the lead after both combining to shoot 579. Cameron Button of Southwestern Univ. is atop the individual leaderboard with a two-day score of 137 (-5).
The 2012-13 Kingsmen golf team concludes the season with three tournament wins and qualified for its second consecutive NCAA Golf Championships.
Results: NCAA Division III Golf Championships Second Round- CLU 305 (+30)
Facebook: www.facebook.com/clusports