Men's Golf Garners NCAA Bid
CLU earns Pool C selection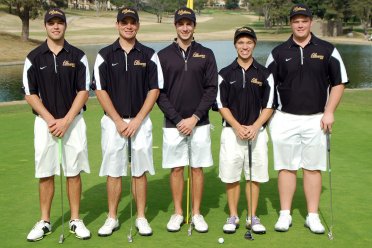 INDIANAPOLIS, Ind. –For the second consecutive season the No. 16 Cal Lutheran men's golf team has earned a bid to play at the NCAA Division III Men's Golf National Championships. The announcement came this morning, revealing the 41 teams and five individuals who will make up the field of 210 golfers to play at the Sandestin Golf and Beach Resort in Destin, Fla. from May 14-17 in an event being hosted by Methodist University.
This year 30 conferences were awarded an automatic qualification (AQ) for the championships. The Southern California Intercollegiate Athletic Conference (SCIAC) automatic bid went to No. 8 La Verne, as the league champion in 2013.
Four teams were selected from Pool B, which consists of independent schools and schools that are members of conferences that do not meet the requirements for an AQ. The final seven berths were reserved for Pool C, which are schools from AQ conferences that were not the conference champion and any remaining Pool B teams.
Joining Cal Lutheran with a Pool C bid were SCIAC foes No. 14 Redlands and No. 19 Claremont-Mudd-Scripps. It is the second straight year that the league will have four teams represented on the national stage next week, which is an indication of how competitive golf is in the conference.
The top five individuals were selected from the remaining players who had not qualified with a team.
The Kingsmen were paced all season by a pair of All-SCIAC honorees in No. 20 Mikey McGinn and Barret McGinnis. Also traveling to Florida as part of the five-man team are Parker Colvin, Bobby Griffin and Chad Kimmelshue. This will be the second NCAA tournament for Colvin, Kimmelshue and McGinn, who finished tied for 27th overall a year ago. The junior enters the weekend ranked number 20 in the nation. It will be the first national appearance for both Griffin and McGinnis.
All teams are guaranteed two rounds of play, one at The Raven Golf Club (par-71) and the other at The Links Golf Club (par-72). After the 36-holes, cuts will be made and the advancing teams will play the final two rounds at The Raven Golf Club to determine a national champion.
Oglethorpe (Ga.), the 2012 team champion, enters the event ranked No. 1 by Golf Stat. Methodist (N.C) comes in as the second ranked team and 2012 runner-up Transylvania (Ky.) is third.
Anthony Maccaglia, the 2012 individual champion, also returns to the course for Oglethorpe and is currently ranked atop the best Division III players in the country. Claremont-Mudd-Scripps' Brad Shigezawa is ranked No. 2 with Mike Wesko (Methodist) rounding out the top-three individuals.
Cal Lutheran will travel on Saturday to get acclimated to the time and weather before a pair of practice rounds on Sunday and Monday before competition begins on Tuesday morning with a shotgun start at 7:30 a.m.
Release: 2013 NCAA Men's Golf Championships
Facebook: https://www.facebook.com/clusports