Kingsmen Fall in SCIAC Championship Final
CLU falls to CMS in title match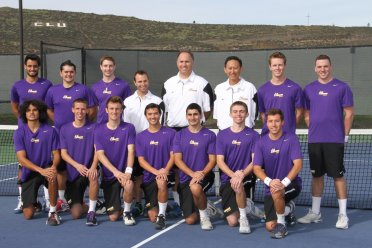 WHITTIER, Calif. – After one of the most successful regular seasons in school history, Cal Lutheran couldn't quite complete the storybook ending, falling to No. 1 Claremont-Mudd-Scripps 6-3 Saturday afternoon in the Southern California Intercollegiate Athletic Conference (SCIAC) championship final.
After going undefeated during conference season, Cal Lutheran's No. 1 doubles group of Nicholas Ballou and Ray Worley was upset by Warren Wood and Joe Dorn 8-5. CLU's No. 2 doubles group of Alex Nichols and Connor Treacy got the first point of the day and avenged an earlier season loss to Neel Kotrappa and Skyler Butts, defeating the pair 8-3. Thomas Millet and Marcelo Sousa nearly gave the Kingsmen a 2-1 lead headed into singles play falling 9-8 (3) to Nikolas Marino and Alex Lane.
Ballou completed his undefeated SCIAC season with a 6-2, 6-7 (4), 6-4 victory over Wood. With the win, Ballou improved to 23-0 and is now 16-0 for his career against SCIAC opponents. Worley earned his 19th win of the season with a 6-3, 6-4 defeat of Dorn.
Unfortunately from there it was all Claremont-Mudd-Scripps as the Stags claimed their eighth straight SCIAC championship. Marino defeated Nichols 6-3, 6-3 while Lane snuck by Treacy 6-4, 6-4. Millet took the first set from Butts 6-2 but couldn't keep the moment going, falling 6-4, 6-2 in the final two sets. Devon Belcher competed strongly all tournament for the Kingsmen but Alex Johnson earned the final point for the Stags, defeating Belcher 6-4, 6-1 and sealing the championship.
Cal Lutheran (18-4, 8-2 SCIAC) finishes second in the conference for the second straight year. The Kingsmen now await their selection to the NCAA Division III regionals which will be announced early next week.
Results: CMS 6 CLU 3 (SCIAC Finals)
Facebook: www.facebook.com/clusports