Kingsmen Through to SCIAC Finals
CLU defeats Chapman 5-0, Redlands 7-2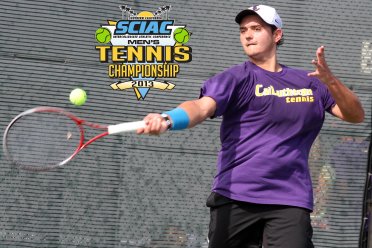 THOUSAND OAKS, Calif. -- The No. 5 Cal Lutheran men's tennis team is one win away from claiming its first Southern California Intercollegiate Athletic Conference (SCIAC) title in school history. The Kingsmen cruised through the first two rounds of the SCIAC Championships Friday, sweeping Chapman 5-0 before defeating No. 12 Redlands 7-2 and earning a berth in Saturday's championship against the winner of Pomona-Pitzer and Claremont-Mudd-Scripps.
The Kingsmen made quick work of their seventh seeded opponents in Chapman to start the day. Cal Lutheran opened the match by taking all three doubles matches. Nicholas Ballou and Ray Worley defeated Troy Akin and Brett Buford while Alex Nichols and Connor Treacy took down Kyle Coates and Chris Williams 8-3. Cal Lutheran picked up its third point with Marcelo Sousa and Thomas Millet combining to defeat Zach Resnick and Nick Mulfur 8-2.
The success carried over into the singles portion of the match with Ballou and Worley easily defeating their opponents and securing the win. Ballou deated Akin 6-0, 6-3 and Worley gave CLU the clinching fifth point with a 6-2, 6-2 victory over Coates. As those matches ended, Cal Lutheran was leading in the four other matches.
In the semifinal against the nationally ranked Bulldogs, Cal Lutheran ripped off three straight doubles wins for three crucial points. Ballou and Worley are a win away from winning their second straight doubles championship after defeating Patrick Lipscomb and Gram Leahy 8-3. The No. 3 doubles pairing of Sousa and Millet captured their second win of the day with an 8-5 victory over Teddy Jones and Max Licona. Treacy and Nichols followed that with a big 9-8 (7-3) victory over Connor Hyde and Nick Cummings to give CLU the momentum headed into singles.
Worley got the first win of the singles portion of the match with a 6-1, 6-1 victory over Hyde and then Ballou got the clinching fifth point with a 6-1, 7-5 win against Lipscomb. Treacy later scored a win over Taylor Hunt 6-4, 6-4 while Millet rounded out CLU's winners for the match with a 6-1, 7-6 (7-2) victory over John Brewer.
Awaiting the Kingsmen in the championships is either Pomona-Pitzer, who CLU beat 5-4 earlier this season, or seven-time defending champion Claremont-Mudd-Scripps.
The final at Whittier College is set to begin at 10:00 a.m. on Saturday.
Round 1: CLU 5 CU 0
Semifinals: CLU 7 UR 2
Facebook: www.facebook.com/clusports