Inaugural SCIAC Baseball Post Season Tournament Underway
CLU, Redlands win on day one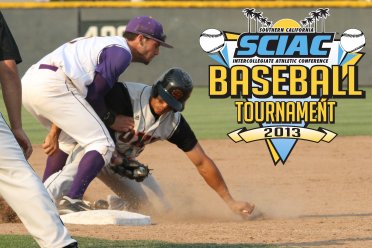 THOUSAND OAKS, Calif. – Day one of the Inaugural Southern California Intercollegiate Athletic Conference (SCIAC) at George "Sparky" Anderson Field in Ullman Stadium saw fireworks at both fields. At Cal Lutheran, the SCIAC champions held on for a 4-3 victory over Occidental. In the other first round game Redlands used a 10-run eighth inning to lift the Bulldogs past Pomona-Pitzer by a 14-8 margin. All four teams will converge tomorrow at CLU.
It was the eighth inning of a tied game and the Kingsmen had momentum on their side. Nick DeLorenzo singled and Ramsey Abushahla pinch ran and stole second base. Mike Vinyard drew a walk to put runners on first and second. A ground ball at third base had the implications of an inning-ending double play, but after AJ Libunao stepped on third his throw sailed over the head of first baseman Pedro Aldape. Running full force, Vinyard was tripped up at third and play stopped. Initially the umpire sent him to back to the base, forcing both coaches to question the call, The umpires discussed and the call was eventually overturned on account of an interference call against Libunao, allowing Vinyard to cross the plate with the ultimate winning run.
The dramatics did not end there for CLU. With one out in the ninth the Tigers leadoff man, Scott Hong, singled and advanced to second on an outfield error. Hong took off running on contact, but a hard hit ball quickly got to Cal Lutheran shortstop Trevor Koons who pivoted his body and threw to Nicho DellaValle where he tagged Hong out at third for the second out of the inning. A single from Jonathan Brooks put runners on the corners and Aldape was hit by a pitch on the forearm to load the bags. An energetic crowd was on its feet as Victor Munoz took a big hack at a 2-2 pitch, but came up short, sparking CLU closer Aaron Roth to let out a scream and clinch his fist in celebration.
The home squad got out to a 2-0 lead in the second inning. Nick Boggan was unaffected by the Occidental defensive shift they put on him and punched the first CLU hit of the day to left field before DeLorenzofollowed suit with a single to right. Kevin Leonard moved the runners up with a sacrifice bunt. A deep fly ball off the bat of Mike Vinyard found the grass for an RBI double as Boggan came in to plate the first run of the weekend for the Kingsmen. DeLorenzo would score on a single up the middle from Spencer DuBois.
The teams would exchange runs in the fifth inning. Occidental cut the lead in half in the top when Logan Allen drove in Libunao as the Tigers collected three hits in the frame.
Jake Petersen, who struck out five in the first three innings on the hill, nearly single handedly, reclaimed the run that CLU surrendered. He led off with a double down the right field line, advancing to third on an outfield error, before diving into home plate on a sacrifice fly from Koons to push the advantage back to a pair at 3-1.
The Tigers would come right back, responding with two runs in the seventh to tie it at 3-3. Aldape led off with a single and moved to second on Riley Smith's second hit of the game. A pinch-hit RBI single from Chris Caldwell scored Aldape. Another Libunao single drove in Smith with the tying run.
Roth came out of the bullpen with one out after Petersen went 6.1, striking out six while allowing three runs on 10 hits. Roth (6-1) forced a ground ball to second and a fly ball to centerfield to end the inning.
The junior righty tossed 3.2 innings, scattering three hits and striking out four without allowing a walk or run.
Offensively, the Kingsmen collected 10 hits and were aided by four Oxy errors. Boggan led the attack going 3-for-3 with a walk and a run. Vinyard was 2-for-3 with a pair of doubles, driving in one and scoring one. DeLorenzo also had a two-hit game.
Occidental connected for 13 hits and used one Cal Lutheran error to their advantage. Aldape, Brooks, Hong, Libunao and Smith had a pair of hits apiece. Aldape and Munoz, who was stranded on second in the fourth, each doubled as the only two extra-base hits allowed. Allen finished with a hit and an RBI.
Tigers starting pitcher Joseph Kling got a no decision after throwing 6.0 innings, allowing three runs on eight hits with one strike out. Thomas Lalli (0-3) was tagged with the loss following a 2.0 inning performance in which he allowed one run on two hits and struck out a pair. Each pitcher walked one CLU batter.
At Pomona-Pitzer, trailing 5-4 after seven innings, visiting Redlands used an eighth inning rally to score 10 runs and take a lead they would not relinquish, though the Sagehens put up a fight with two runs in the eighth and one more in the ninth.
Kyle Hart (6-5) earned the win for Redlands while Jake Bruml (7-4) took the loss as both lasted 7.1 innings. Hart allowed just four earned runs, of seven, on 11 hits while striking out three. Bruml surrendered seven earned runs on 12 hits with a walk and two strike outs.
Also throwing for UR were Ross Ortman and Josh Makler. Ortman went an inning and Makler recorded the final two outs for the Bulldogs.
Cal Lutheran will host the second round of the Inaugural SCIAC Baseball Post Season Tournament tomorrow, May 4. Occidental (26-14) and Pomona-Pitzer (27-13) will meet at 9:00 a.m. on George "Sparky" Anderson Field in Ullman Stadium. At noon CLU (32-7-1) will play Redlands (22-16). The final game of the day is scheduled for 3:00 p.m. and will pit the winner of the Oxy/PP game against the loser of the CLU/UR game.
Gates will open at 8:00 a.m. and tickets will be priced at $10 for adults. All SCIAC students, staff and faculty with a current ID will be admitted for free. Children 12 and under are also free.
Box Score: CLU 4, OXY 3
Box Score: UR 14, PP 8
Championship Central: Inaugural SCIAC Baseball Post Season Tournament
Facebook: https://www.facebook.com/clusports