Regals Ready for SCIAC Championships
CLU enters as No. 7 seed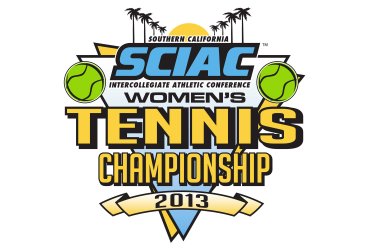 LA VERNE, Calif. – Cal Lutheran will be one of eight teams competing at the 2013 Women's Tennis Southern California Intercollegiate Athletic Conference (SCIAC) Championships hosted by La Verne on Friday and Saturday May 3-4.
Entering as the No. 7 seed, Cal Lutheran (5-16, 2-7 SCIAC) has struggled this season. The two league victories they posted came against Caltech (Mar. 1) and Occidental (Apr. 12).
The Regals will meet PP in the opening round on Friday. Teams will begin play at 10:00 a.m. at the Biszantz Family Tennis Center at CMS.
Leading the way for Cal Lutheran this spring has been freshman Emily Werman who was 7-12 in singles action. She won a match at the No. 1 spot before splitting time at No. 2 and No. 3 with four and two wins, respectively.
Sarah Baker, Carly Mouzes and Lauren Toohey turned in six wins apiece for CLU during singles play. Baker won twice as the Regals No. 2 and four matches in the three spot. Mouzes played primarily as the number four and won five of her six matches there. In her only appearance as the No. 3, against Biola, she was victorious. Toohey was a two-time winner at No. 5 and came away with four victories as the number six player this season.
In doubles action, Mouzes and Lindsay Murphy teamed up for a squad-high eight wins and won at all three spots. As the number one team they defeated Biola on Feb. 15. Mouzes and Murphy won four times at No. 2 and three times on the third court.
Werman and Baker were victorious five times as the No. 1 doubles team for the Regals. Additionally, Murphy also chipped in with five singles points during the regular season.
Leading the standings entering the weekend is undefeated and nationally No. 2 Claremont-Mudd-Scripps (25-0, 8-0) followed by No. 14 Pomona-Pitzer (12-5, 7-1) and No. 9 Redlands (17-2, 6-2). Host No. 29 La Verne (12-6, 5-3) is also among the top-30. Rounding out the field are Whittier (11-7, 4-4), Chapman (4-11, 3-5), CLU and Caltech (6-12, 1-7). The Beavers defeated Occidental 5-0 on Tuesday during a play-in match.
Matches will take place at three different locations during the two-day event.
Follow the entire tournament here.
Championship Central: 2013 Women's Tennis SCIAC Championships
Facebook: https://www.facebook.com/clusports