Regals Conclude Season in Third at SCIAC Championships
CLU finishes third for six consecutive tournament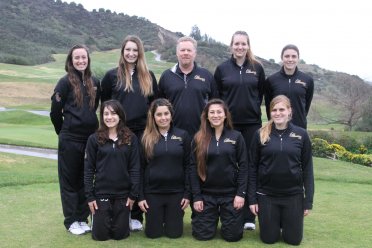 BEAUMONT, Calif. – Heading into the Southern California Intercollegiate Athletic Conference (SCIAC) Championships, the Cal Lutheran women's golf team had finished in third place for the past five consecutive tournaments. It was only fitting that the Regals finished third Monday during the final round of the tournament, shooting a combined score of 341 for the second day a row. In only its second year of competing as a varsity sport, Cal Lutheran finished the tournament with a combined score of 1,040 (358-341-341).
Much like the rest of the season, freshman McKay Weiler was the top finisher for CLU. Weiler shot an 85 during the final round to give her a three-day score of 249 (84-80-85) which was good for 14th place.
CLU's No. 2 player Danika Cochiolo continued her steady play into the final round, managing an 87 on Monday. Her three-day total of 260 (87-86-87) was good for an 18th place finish.
After struggling during the first two rounds, Devon Meredith enjoyed a phenomenal final round, shooting a five-over 77 which was the second best score of the day. Backed by her strong finish, Meredith came in 19th with a three-day score of 262 (93-92-77).
Lisa Borgialli and Aida Mahfood finished a stroke apart as Borgialli ended with a combined score of 275 (94-89-92) while Mahfood turned in a 276 (94-86-96).
Emily Bullen who competed as individual, rounded out the Regals with a final total of 296 (100-84-102).
Shaina Raskin of Claremont-Mudd-Scripps led from start to finish, taking first place with a total score of 229 (72-76-81). Raskin's teammate Tiffany Su took second after recording a three-day score of 233 (76-80-77). Pomona-Pitzer's Tiffany Gu came in third after totaling a score of 235 (82-75-78).
Claremont-Mudd-Scripps won its second consecutive SCIAC Championships title finishing with a combined score of 941. Redlands came in second with a score of 987.
Results: Final Round CLU- 3rd (1,040)
Facebook: www.facebook.com/clusports