Kingsmen Finish Fourth at SCIAC Championships
CLU has best round of 292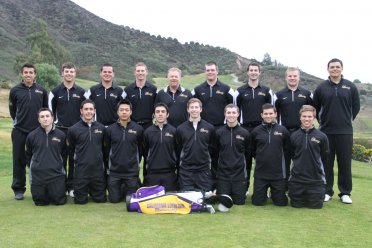 BEAUMONT, Calif. – The Cal Lutheran men's golf team saved its best for last as it shot its best combined score of the tournament during the final round of the Southern California Intercollegiate Athletic Conference (SCIAC) Championships Monday at Oak Valley Golf Club. After shooting 301 on Saturday and 300 on Sunday, the Kingsmen recorded an eight-shot improvement of 292 to finish in fourth place and just two shots behind third place Redlands.
Facing stiff competition, CLU got the best round of the day from Mikey McGinn who shot a final round 68 (-4) which give him a three-day score of 216 (72-76-68). The junior tied for the low-round of the day while finishing in a tie for fourth place.
Barret McGinnis, who was even par through the first 36 holes, completed his tournament with a final round 79 (+5) to give him a three-day score of 223 (72-72-79) while finishing in tie for 10th place.
Playing in his final SCIAC Championships, senior Chad Kimmelshue put together his best round of the tournament Monday, carding a two-over 74. Kimmelshue's three-round score of 230 (79-77-74) narrowly missed out being a top-20 score as he finished in a tie for 21st.
One shot behind Kimmelshue was Parker Colvin who ended the day with a four-over 76. Shooting 80 during the first round and 75 during the second, Colvin's three-day total of 231 was good enough for a tie for 23rd.
Finally, Bobby Griffin had the biggest improvement during the final round, bettering his second round score by eight strokes with two-over 74 Monday. Griffin's three-round score of 234 (78-82-74) put him 25th.
Competing as individual, Cody Price shot a final round five-over 79 to give him his best score of the tournament.
Brad Shigezawa won the tournament by three strokes with a three-round total of a four-under 212 (70-74-68). La Verne had the next three top finishers with Derek Zachman and Kevin Holiday tying for second after both shot 215 and Kelby Scharmann was fourth with a score of 216.
La Verne ran away with its seventh consecutive team title, combining to score an 867 (286-296-285). Claremont-Mudd-Scripps was second with a total score of 881 (288-301-292) and Redlands was third with a score of 891 (303-295-293).
Cal Lutheran now awaits its potential selection to the NCAA Division III Golf Championships May 14-17 in Destin, Fla.
Results: Final Round- CLU 4th (292)
Facebook: www.facebook.com/clusports